A Special Retirement Auction!

4311 W. County Rd. MM, ELKHART LAKE, WI 

Thursday, April 18th, 2019  11:00 a.m.
 Carl is 80 years young & still operating his small hog operation and cash cropping—
the big decision to retire has come.  Carl has kept all his equip. shedded & up to snuff---if he didn't buy it new, he bought it very clean & from a good home. 
A complete farm line-up that speaks for itself— Bid live in-person or Simulcast
online with Bidspotter.com for most of equipment selling.  Watch for updates!
Carl's Dynamic Duo of Deeres--
JD 4450
MFWD, SGB, PS, DR, 20.8R-38's (90%), Duals, 3 sets of rear weights, 16.9R-26 (80%) w/fenders. 
A rare find with only 3927 original hours!
Watch for more pictures soon.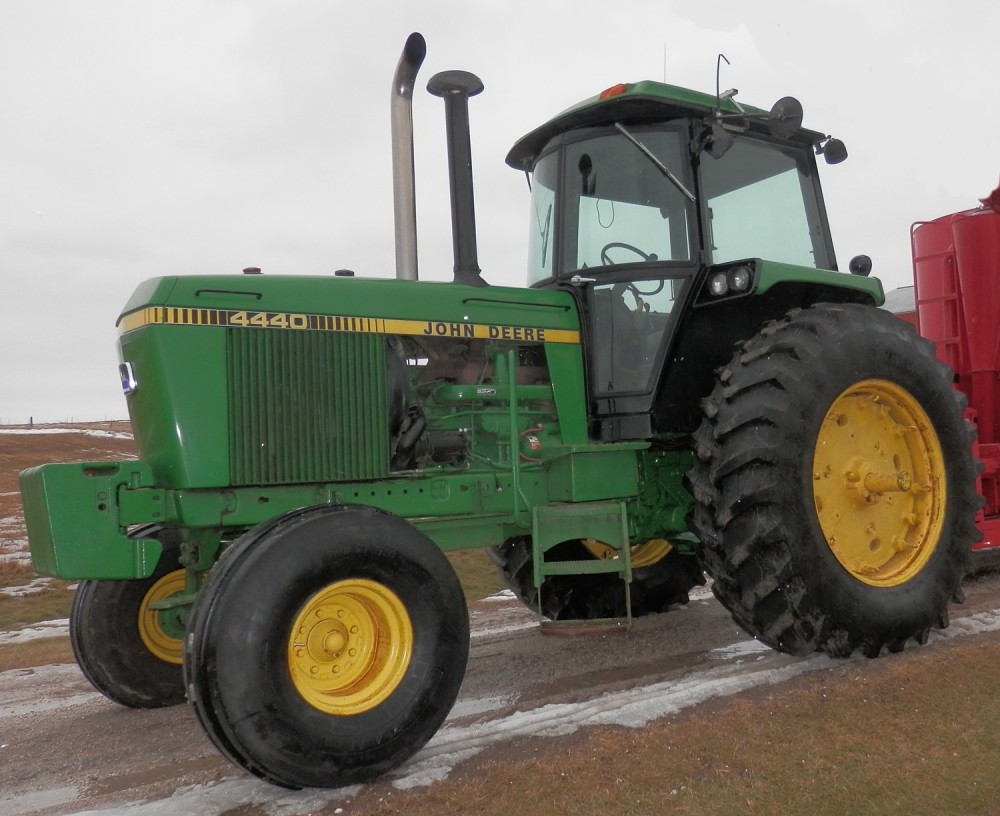 JD 4440 Later Mdl. , SGB, PS, Triple remotes, Gen. step, 540/1000 shafts, 20.8R-38's (60%), Duals, 4-rib fronts, chrome stack, 10 suitcase weights.

   MORE TRACTORS....

JD 4240 SGB, QR, DR, 18.4R-38's (90%),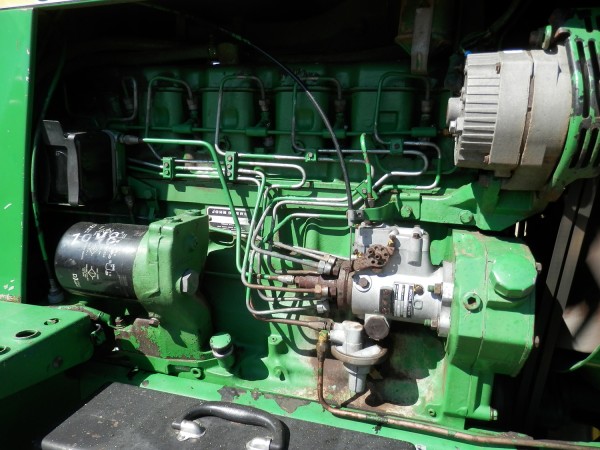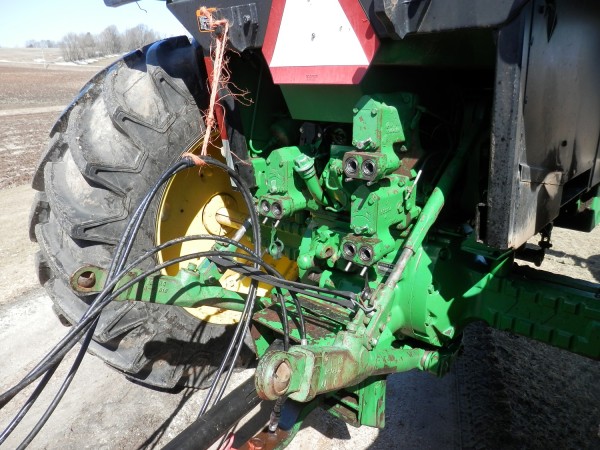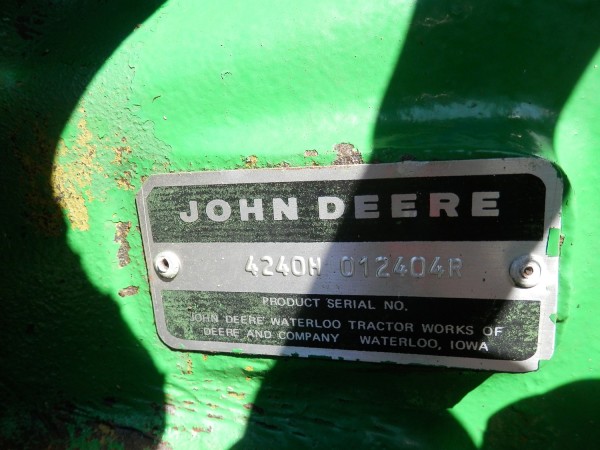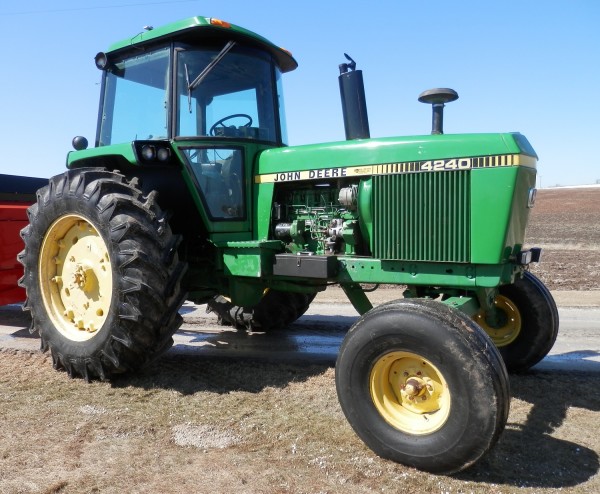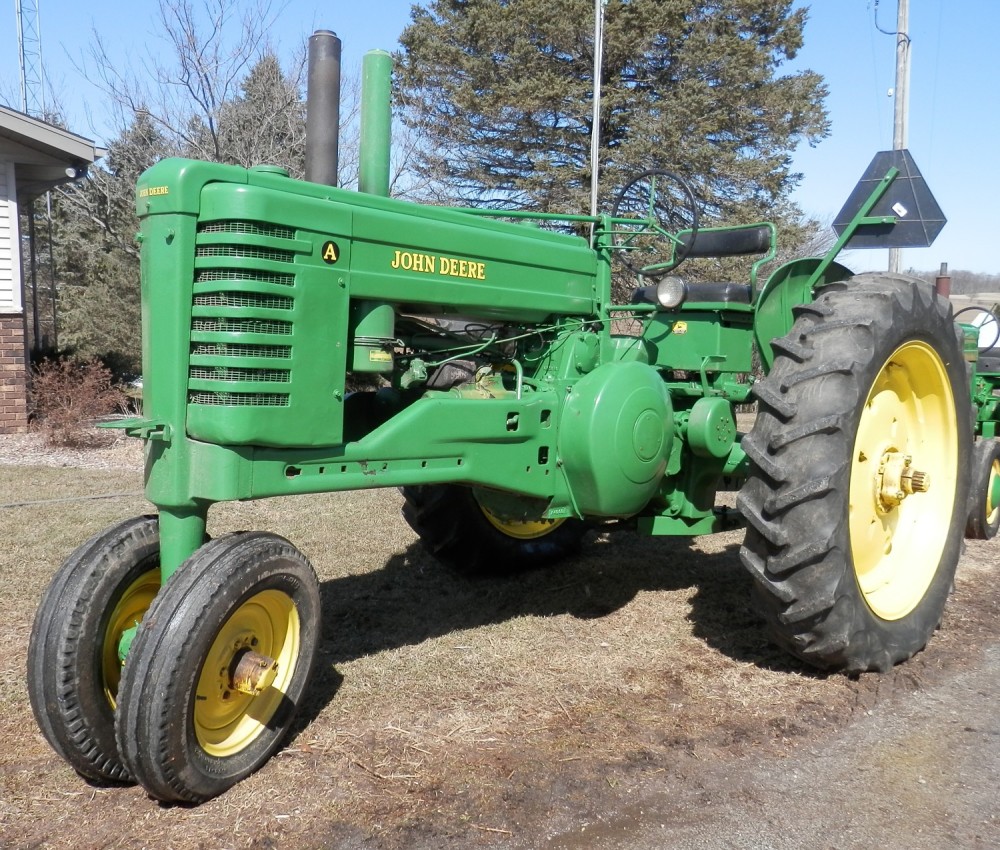 JD A, born & raised on the Maeuser Farm.  A 1957 baby and older restore. 

S

he sells w/13.6-38's, 540 pto, Roll-O-Matic front and still runs & drives great!



Selling alongside & after JD No. 8 7' sickle mower to fit JD A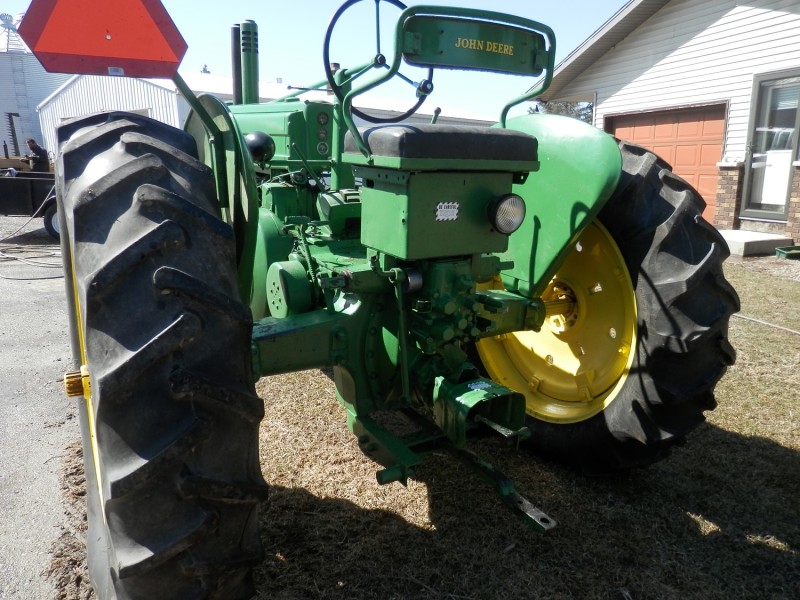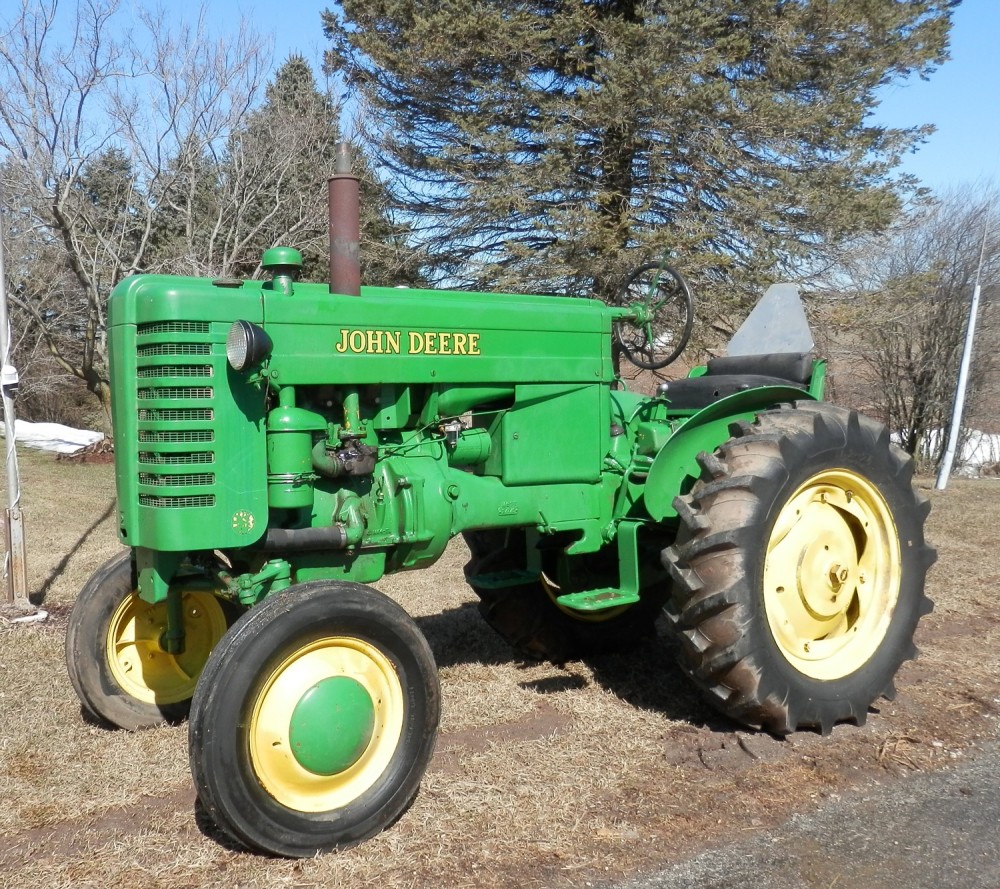 JD M , 11.2-24's(90%), rear pulley, 540 pto, 2-pt. lift; runs & drives great.  SN 31497

 Selling alongside and after, JD 1X plow.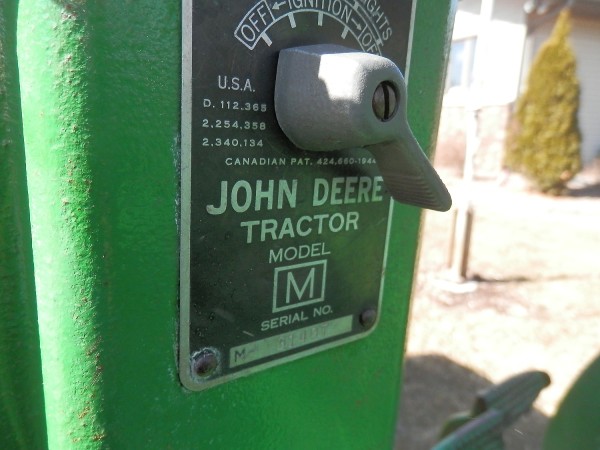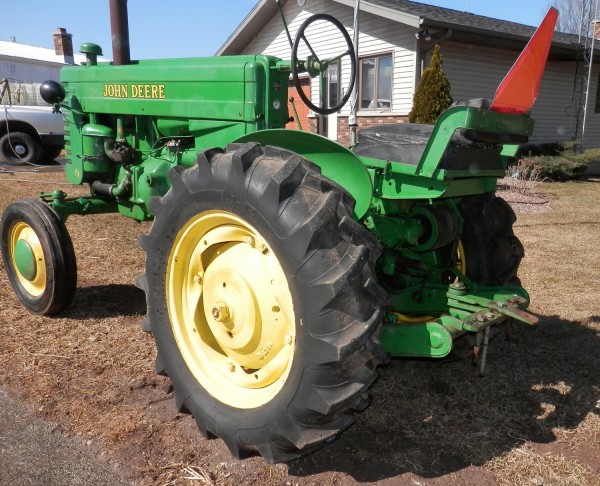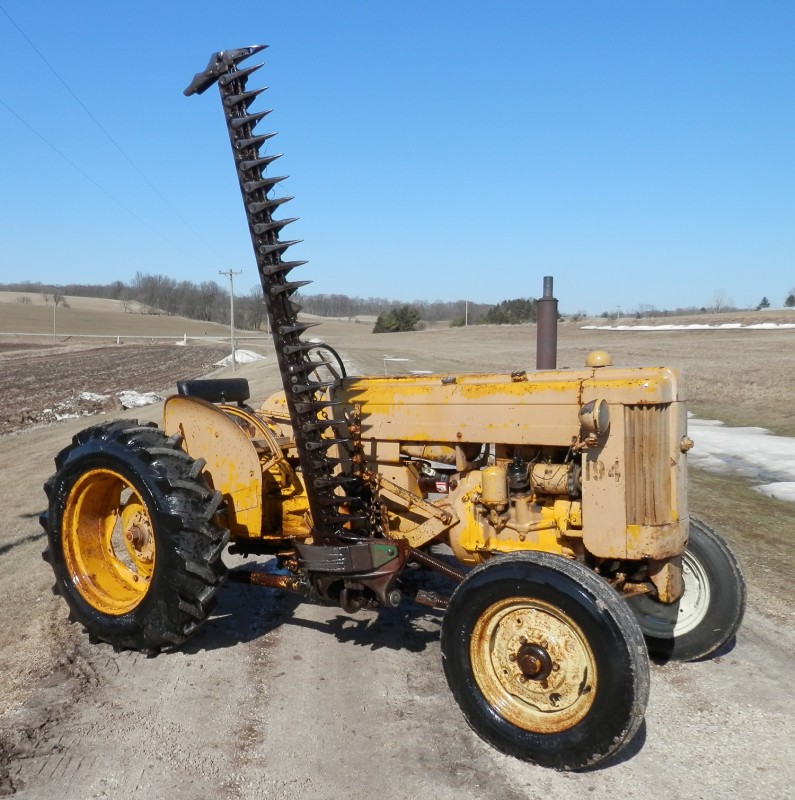 JD 40-U Industrial Utility Tractor, WF, like new 11.2-24's, newer 3-rib fronts,  w/belly mt. sickle mower.  SN 64313  Very respectible tin. 

A late model '55—

ready for summer pastures, fencelines, and ditches.
2 Lone Reds in the Shed...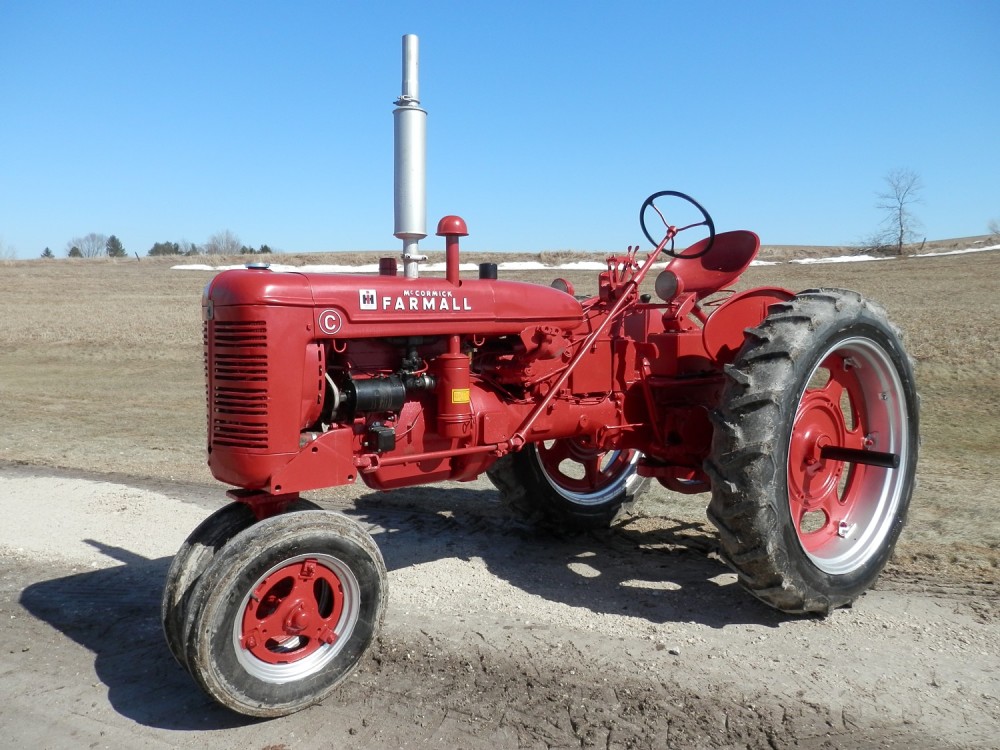 Farmall C Culti-vision, 11.2-36 FS,

rear pulley, very straight & sharp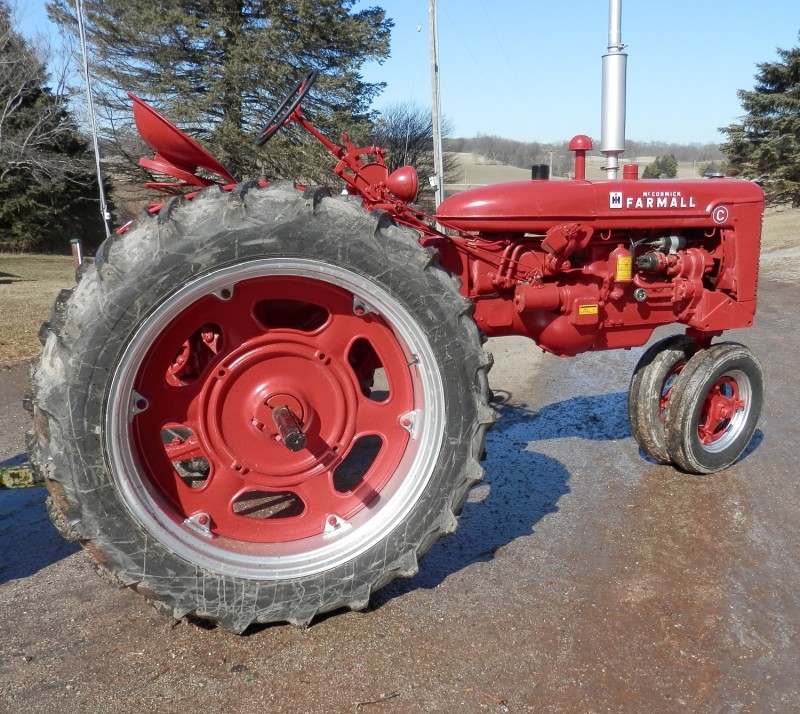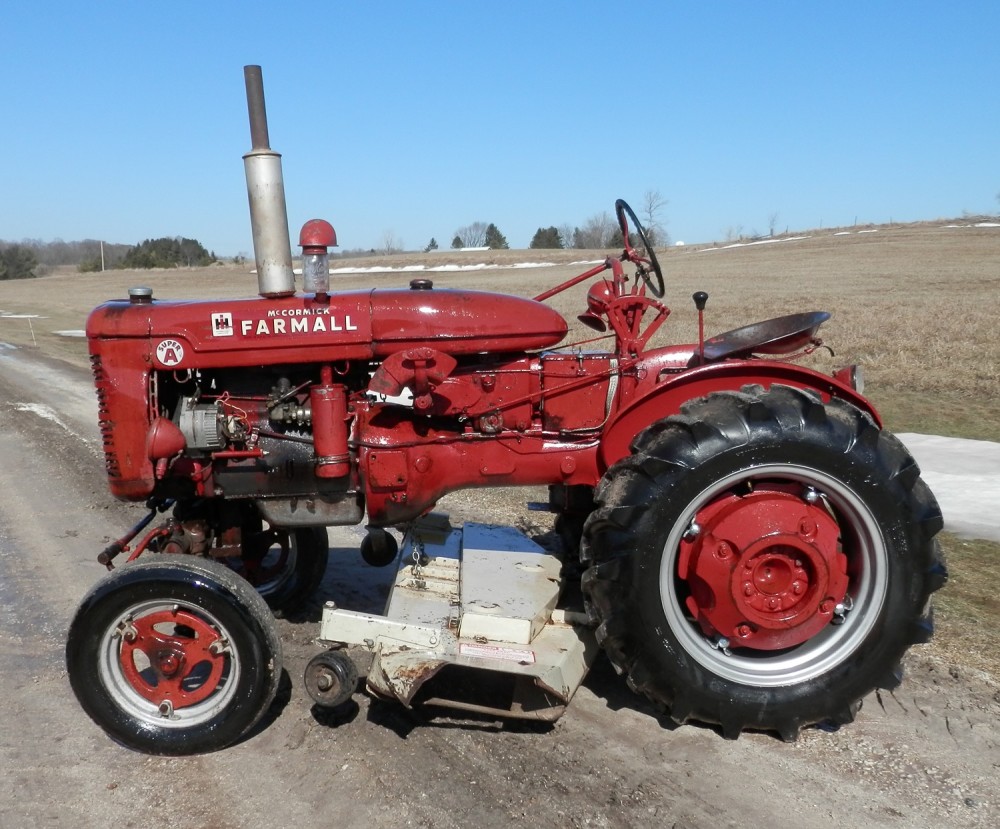 IH Farmall Super A Cultivision, 11.2-24 w/weights, 540 pto, swinging drawbar,

rear pulley,  selling w/Woods L503 belly mt. mower deck—

purchased locally at Hingiss Implement. VG Tin, solid fenders--a very nice user tractor.
Ford 4023C, Industrial version of a Ford 3600, Gas, ROPS, 13.6-28's like new,

foot throttle, DL, SR, 3-pt., 540 pto, nice tin, solid fenders, big lunch box & front bumper, 4952 hours on the meter.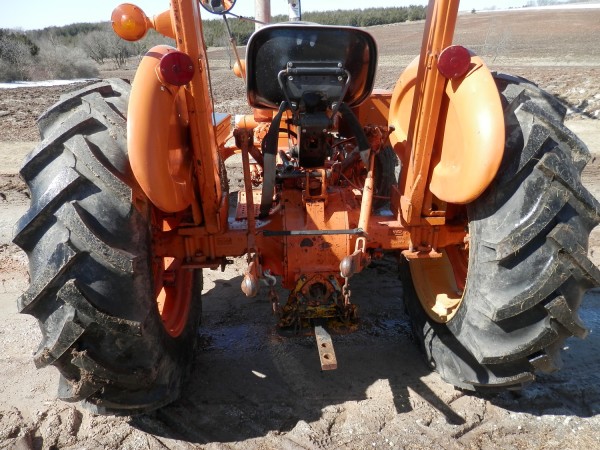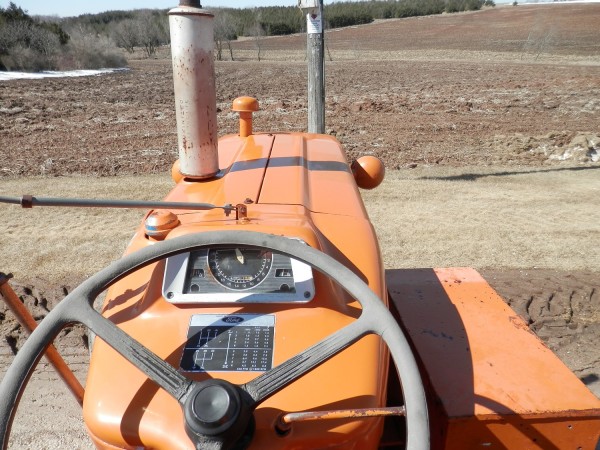 JD 1010 crawler, Dsl., rear winch, 5 1/2' bucket.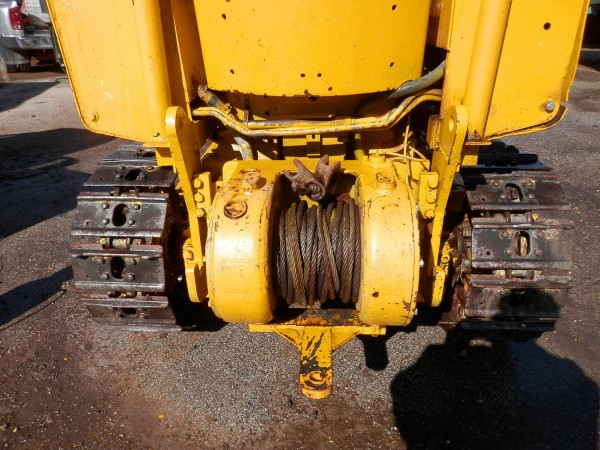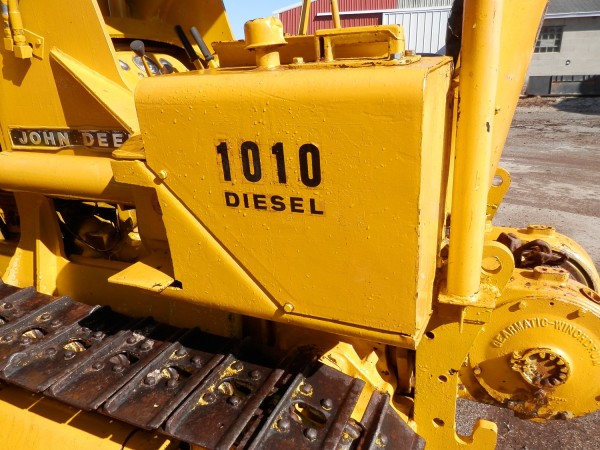 Check for pictures at the end of the listing---
JD 9500 Combine,
RWA, bin extensions, stalk shredder, 17' auger, 3057 separator hrs.,
has been a good machine for Carl & is VERY CLEAN!


JD 918 18' Flex Head,
Poly skids & fingers, sells on a homemade head hauler.


JD 6R CH
on a gear carrier
A Nice & Green Spring Planting Line-up….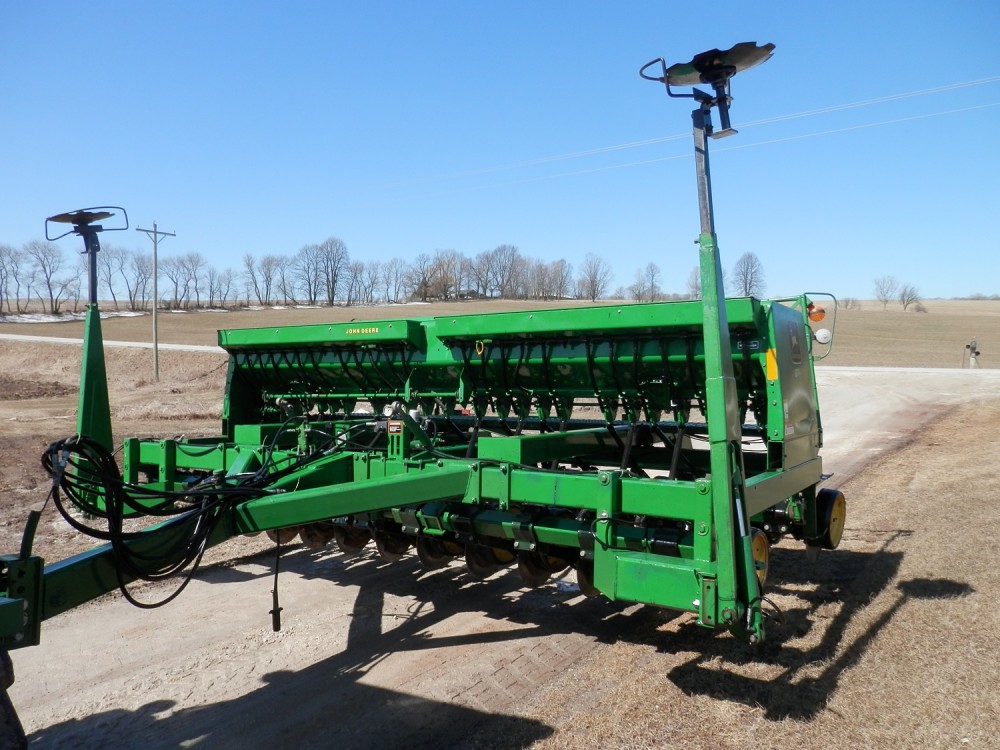 JD 750 15' NT Drill w/newer 2-pt. swivel quick hitch, front grass & markers,

HD rear hitch & hyd. coupler, lights & bright paint.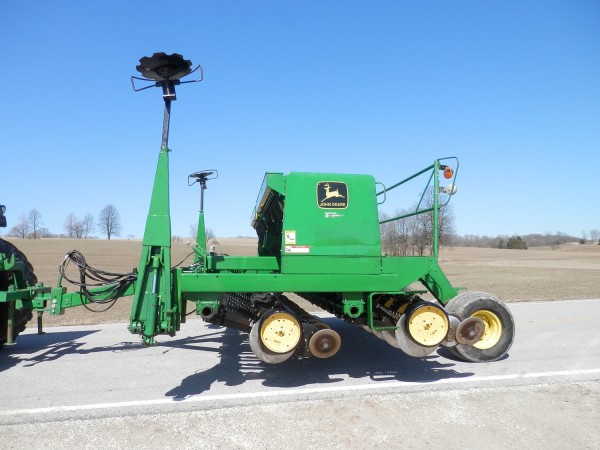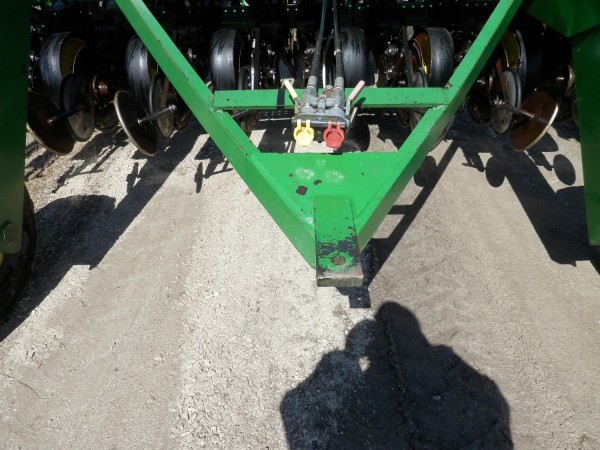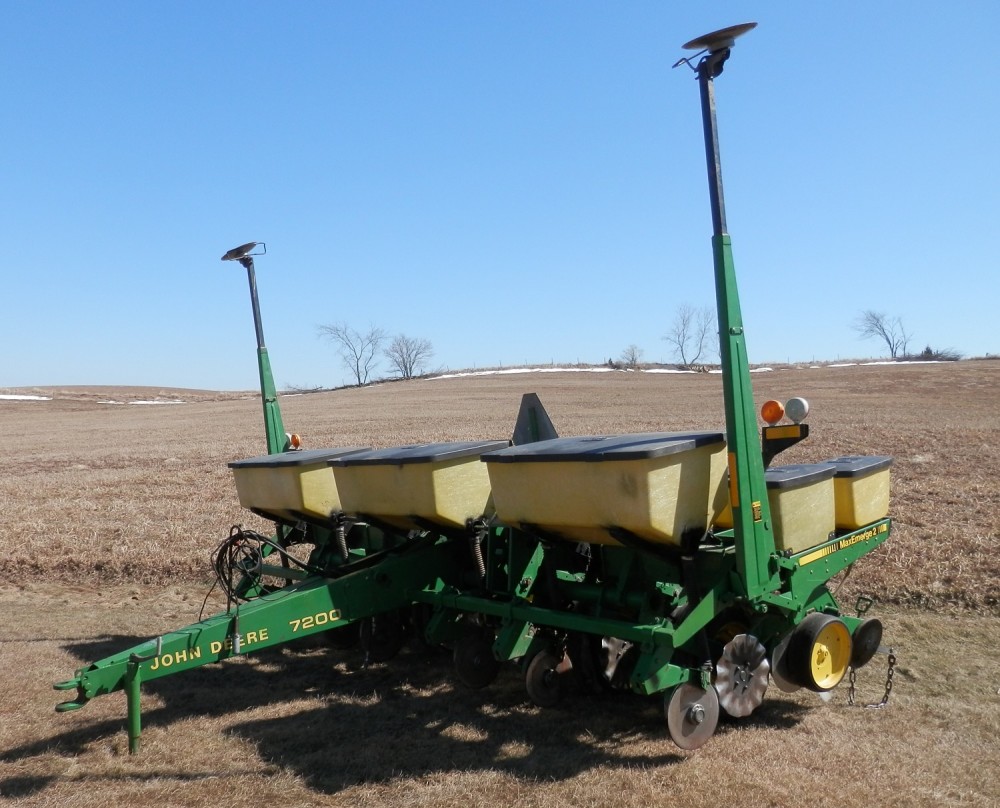 JD 7200 Max Emerge 2, 6RN Planter fluted coulters, HD springs, Dry fert., Comp-U-Trac 150 Monitor, limited acres planted & after use is cleaned up, fert. augers painted & shedded.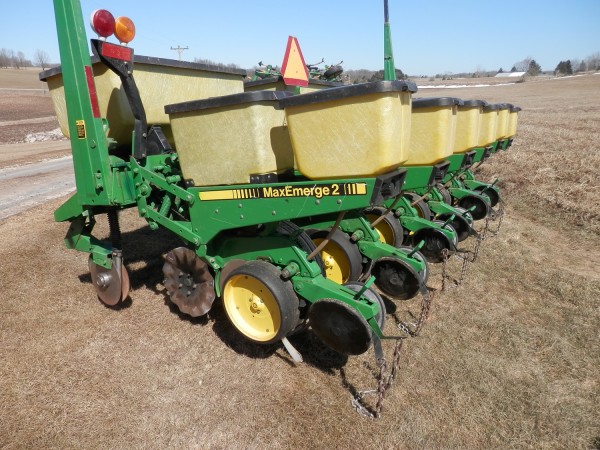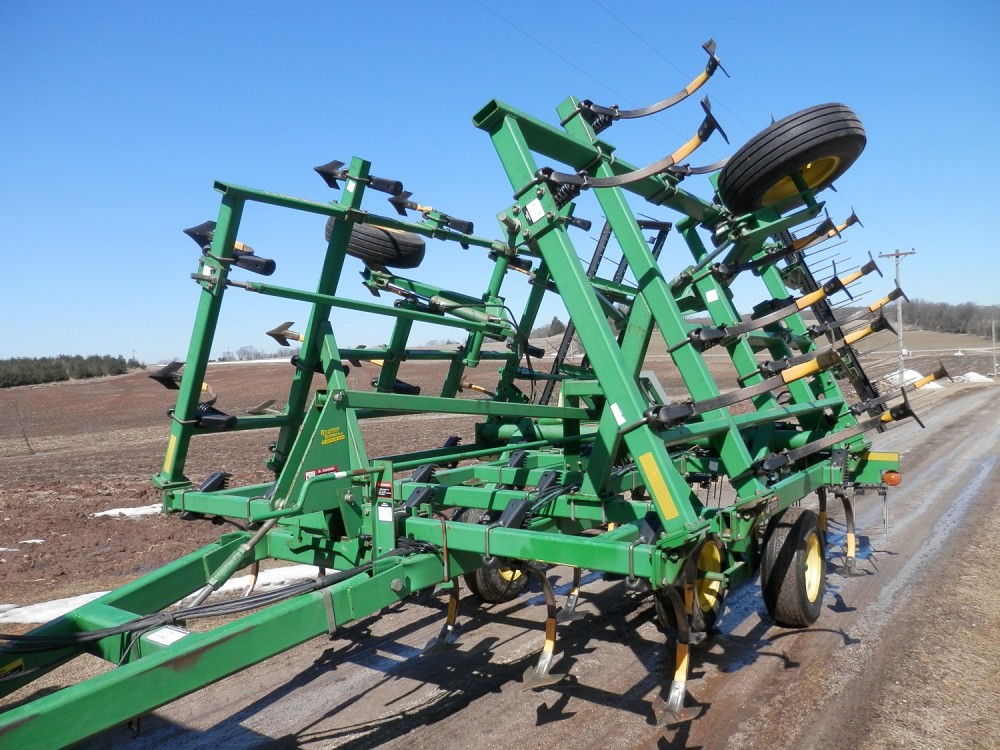 JD 980  24'  Field Cultivator, new or like new 9" shovels, Walking tandems base w/single wheels on wings,

Fore/Aft leveler control, 3 bar coil tine harrow.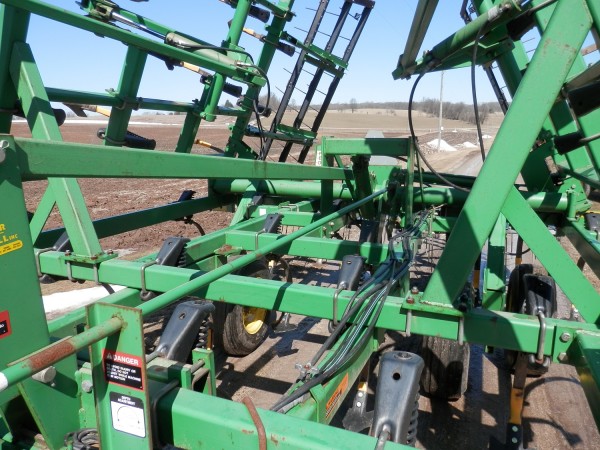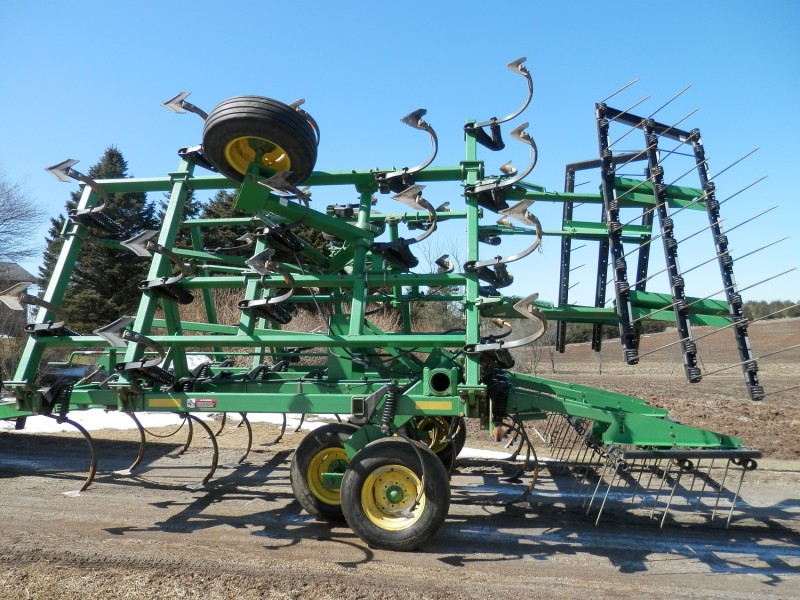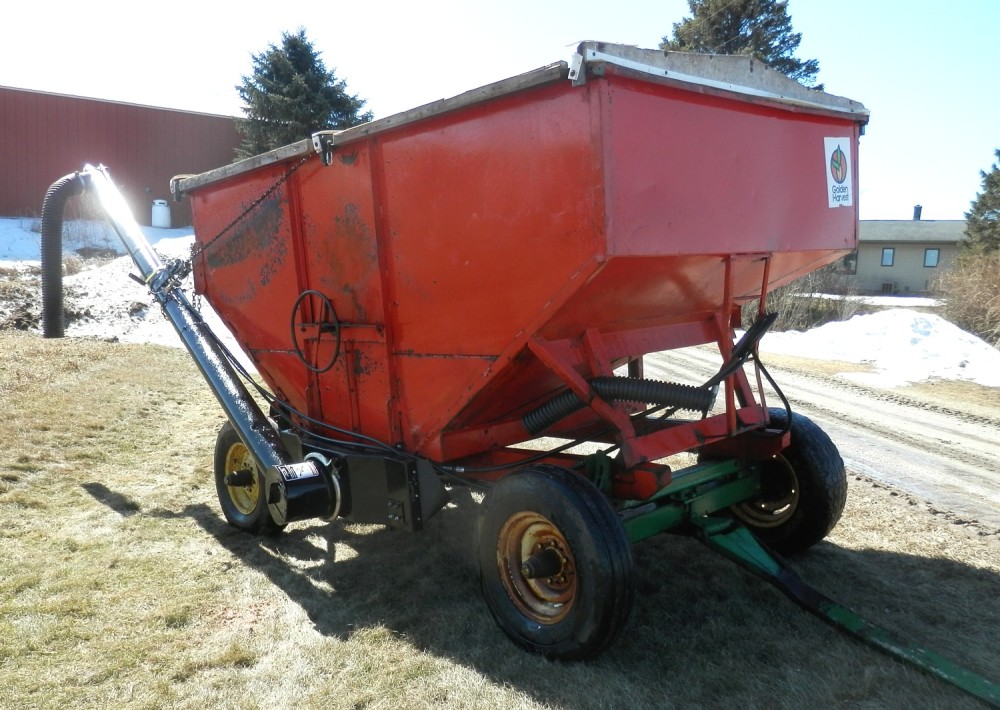 200 bu gravity box on an older JD bolstered 6-bolt gear.
Sells w/like new Unverferth 14' Dry fert. auger.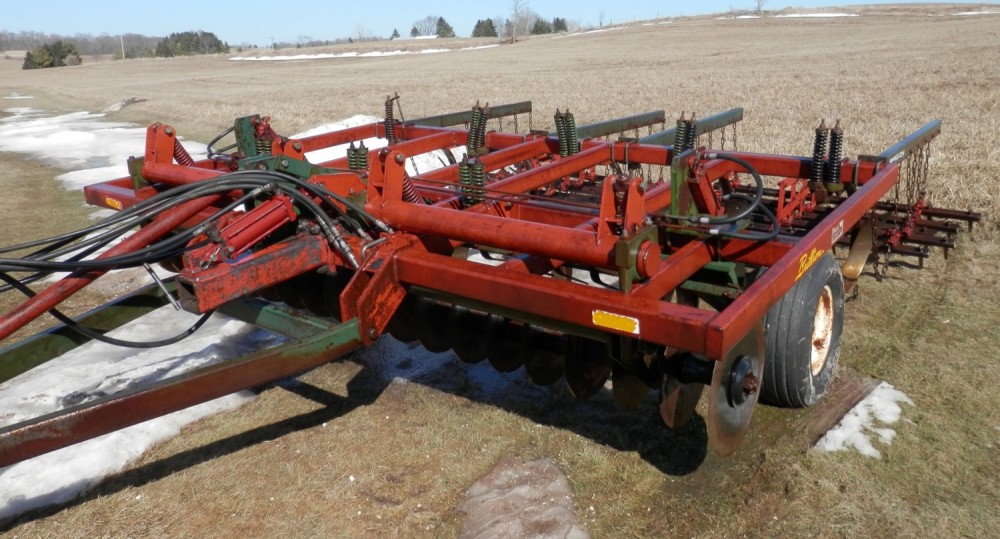 Brillion 9-shank disk chisel w/independent disk control & 5-bar spike drag.

JD 2800 4X Vari Plow, Gauge Wheel—always shedded, limited use for years & very sharp.

JD 13' Disk, tandem wheel trans., ridge leveler, big blades w/rear cone,
Noble 3-bar coil tine harrow.

Brillion P-10 14' Cultipacker like new scrapers, bright paint, big rolls and little signs of use. 

Mac Farland 4 sec. all steel hyd. lift cart drag—shedded & Exc.

Tebben 3 pt. 4R corn cult., Danish tine, dual stabilizers & gauge wheels.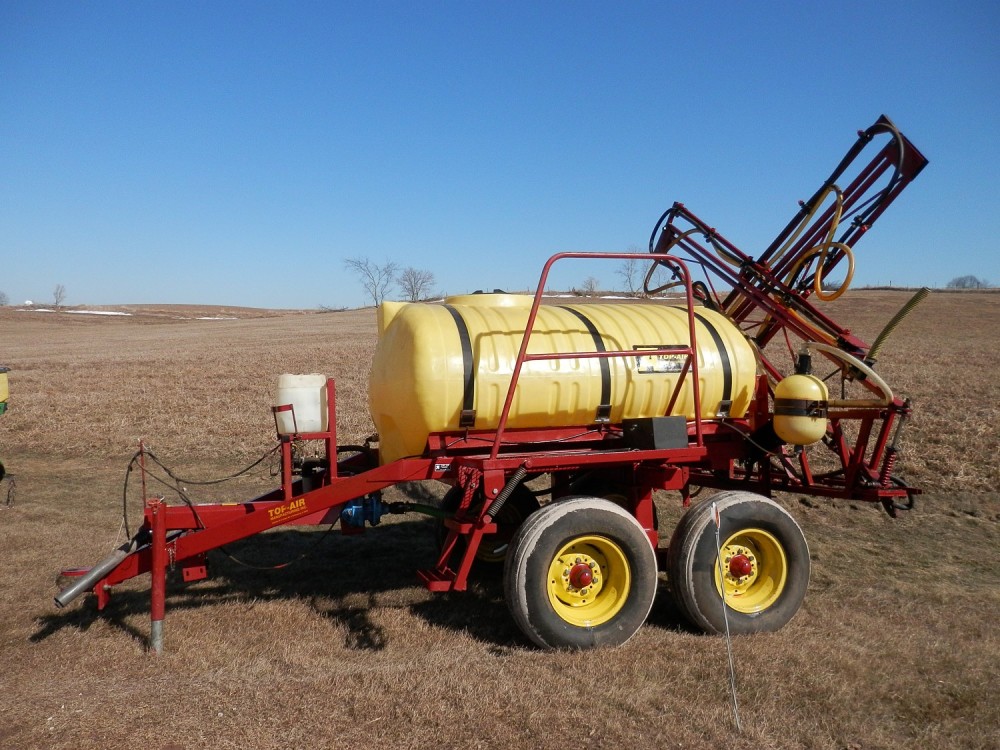 Top Air Field Sprayer, 500 gal. 36' boom, foam markers, Raven controls, tandem axle,

540 pto drive pump—clean.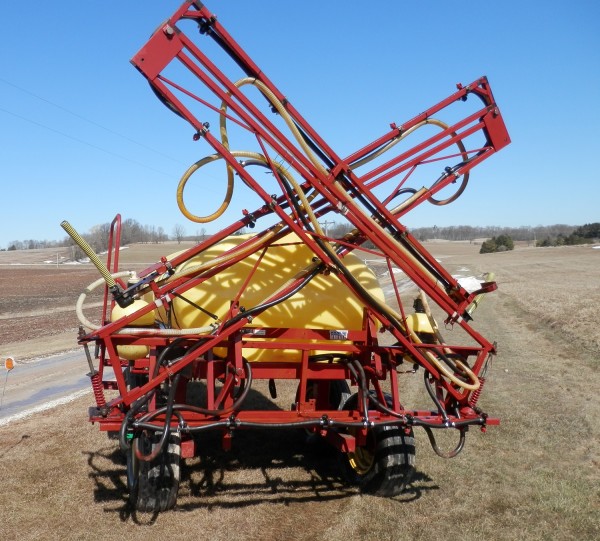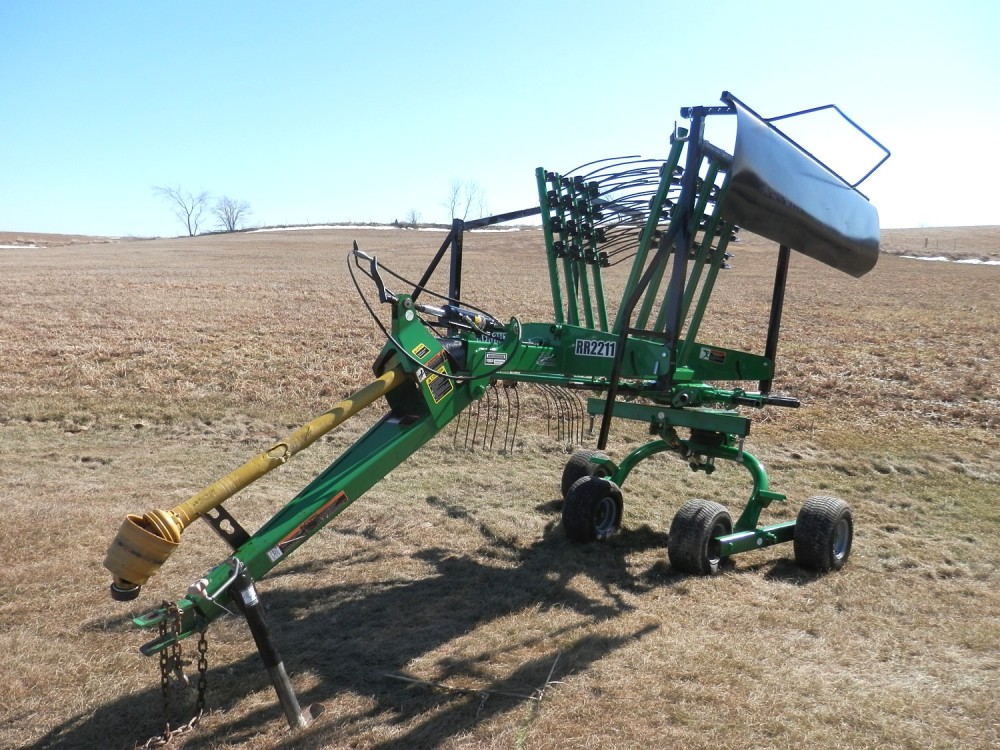 Frontier RR2211 Rotary Rake, walking tandems, on frame storing teeth,

purchased new & sure wasn't out of the shed much.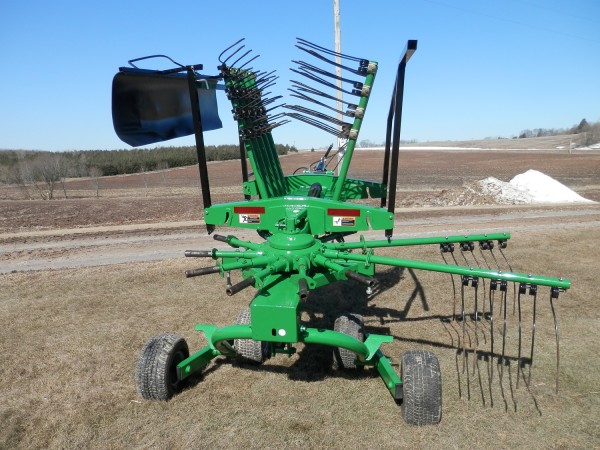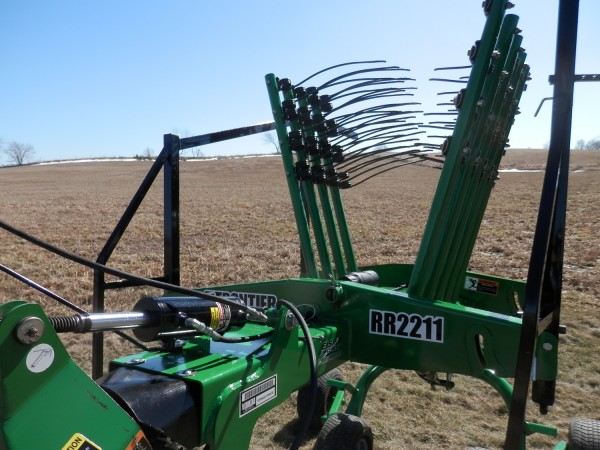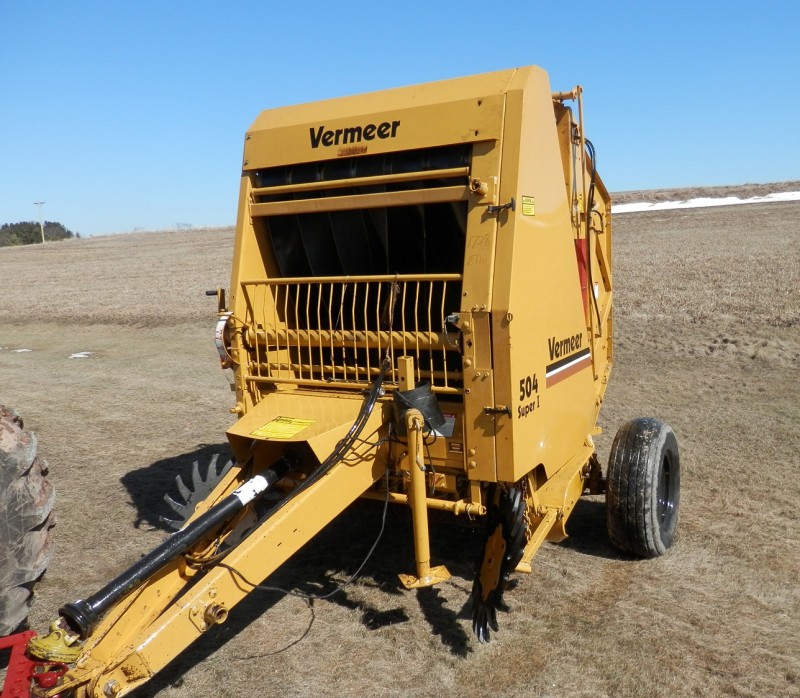 Vermeer 504 Super I Rd. Baler, Merge Wheels, Twine & nice paint!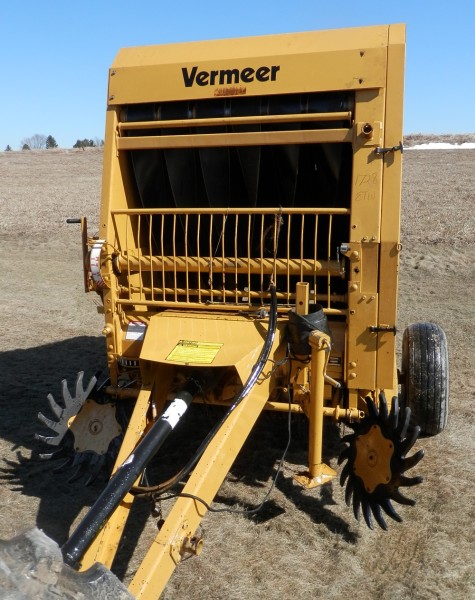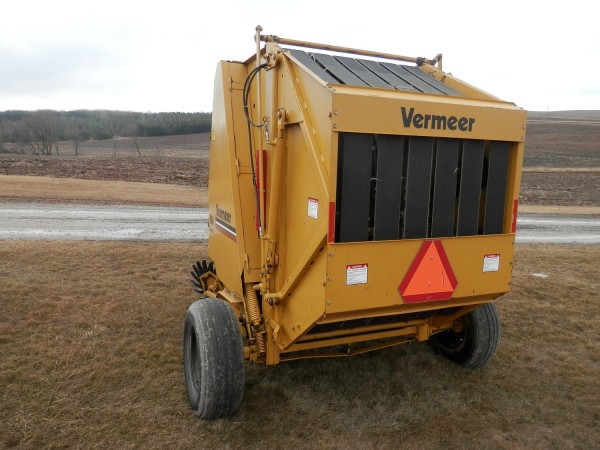 JD 720 9' Mo Co Sickle haybine, 9' rubber rolls, bolted sections, lights.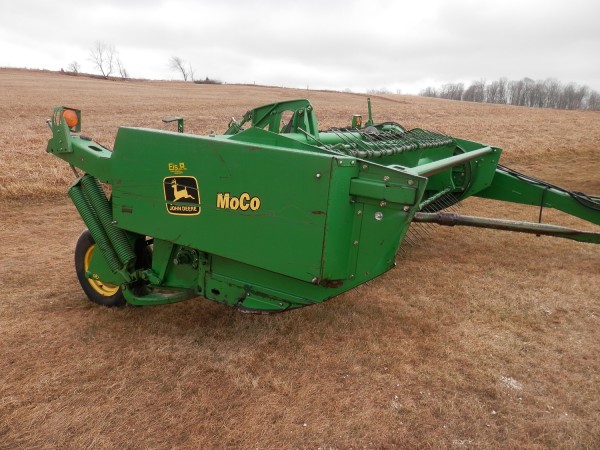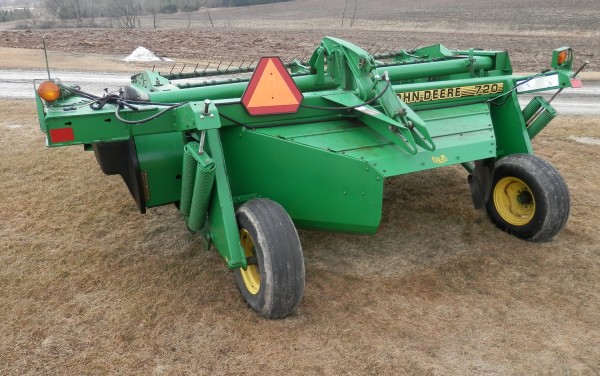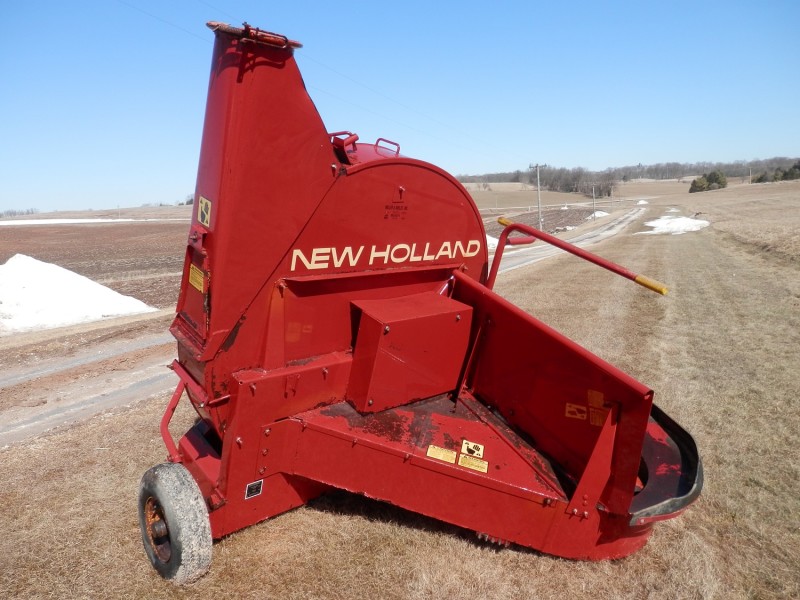 Ford NH 28 Forage Blower, good tight spinner, really great for age.

2 Gehl  970 16' LH  forage boxes.one on a tandem Gehl 12T, one on single axle Gehl 6-bolt.

1-Gehl BU 910 16' LH forage box, beaters replaced, on Knowles 6-bolt gear.

Miller Pro 1060 forage blower—nice.

Special and other equipment….
Rare Auction Offering-- Portable Kwik Kleen Small Grain Cleaner, sells w/2 sets of 5 screens,

fold up discharge auger & 5 hp. drive motor—purchased new.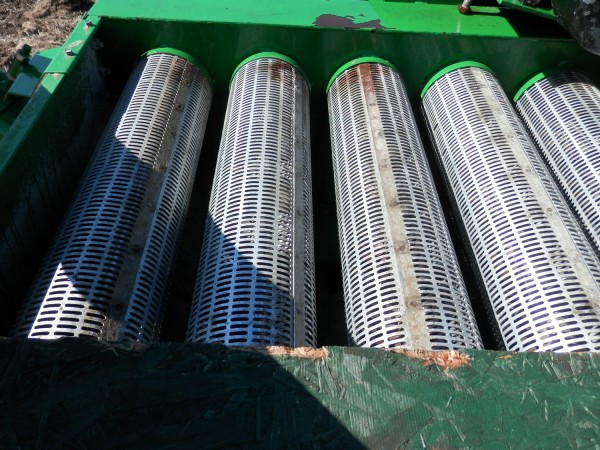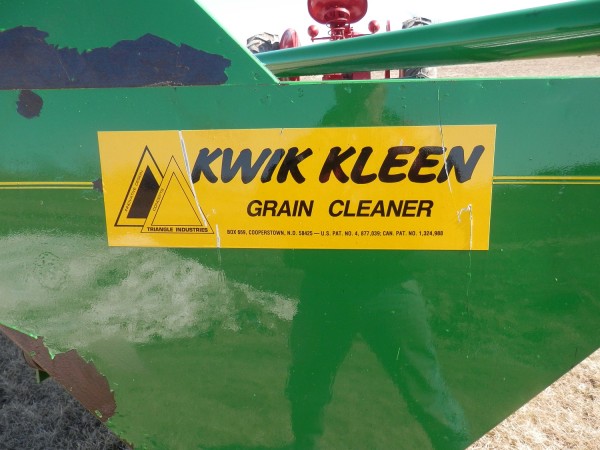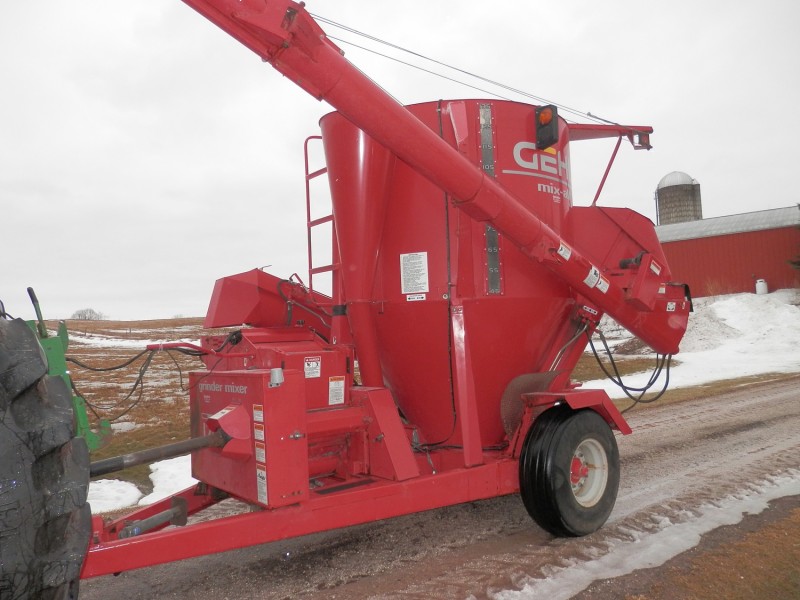 Gehl 170 Mix-All portable grinder/mixer w/Gehl 2100 Scale,

long folding auger, hyd. drive intake & discharge. 

Purchased new, looks like new--- nice!
(Watch for more views soon)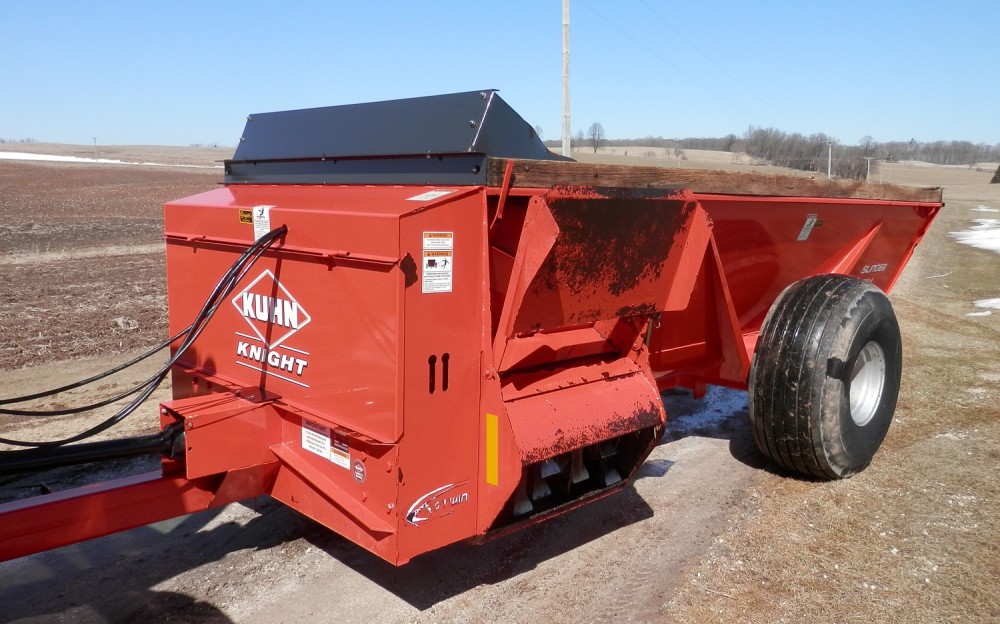 Kuhn Knight 8114 Pro Twin Slinger Spreader, single axle, 16.5x16.1 floaters,

purchased new—limited use & super paint.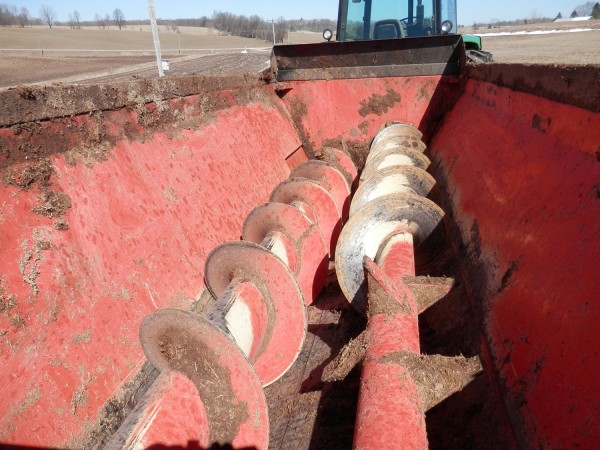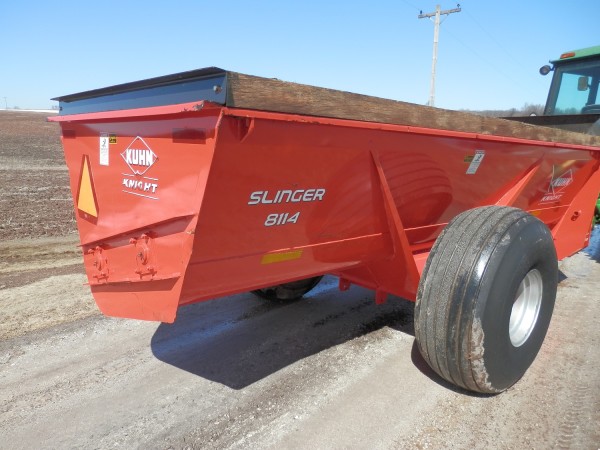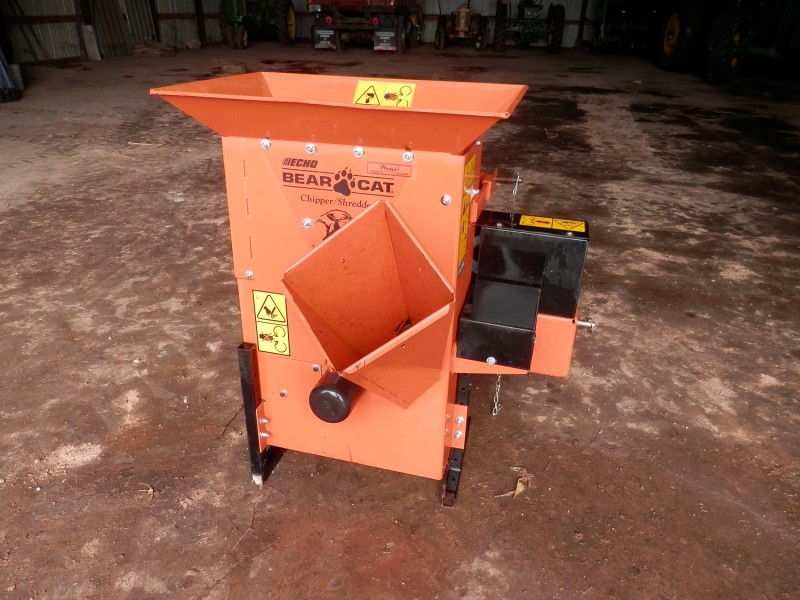 Echo Bearcat 3 pt. 540 pto chipper/shredder—handles up to 4" material—purchased new.


Schuette 8x20 all steel flat rack on a HD 6-bolt Knowles gear, 12.5-15 imp. tires—


And ….3 pt. 7' Scarifier  box blade w/bolt on edge.

From the Grain Operation….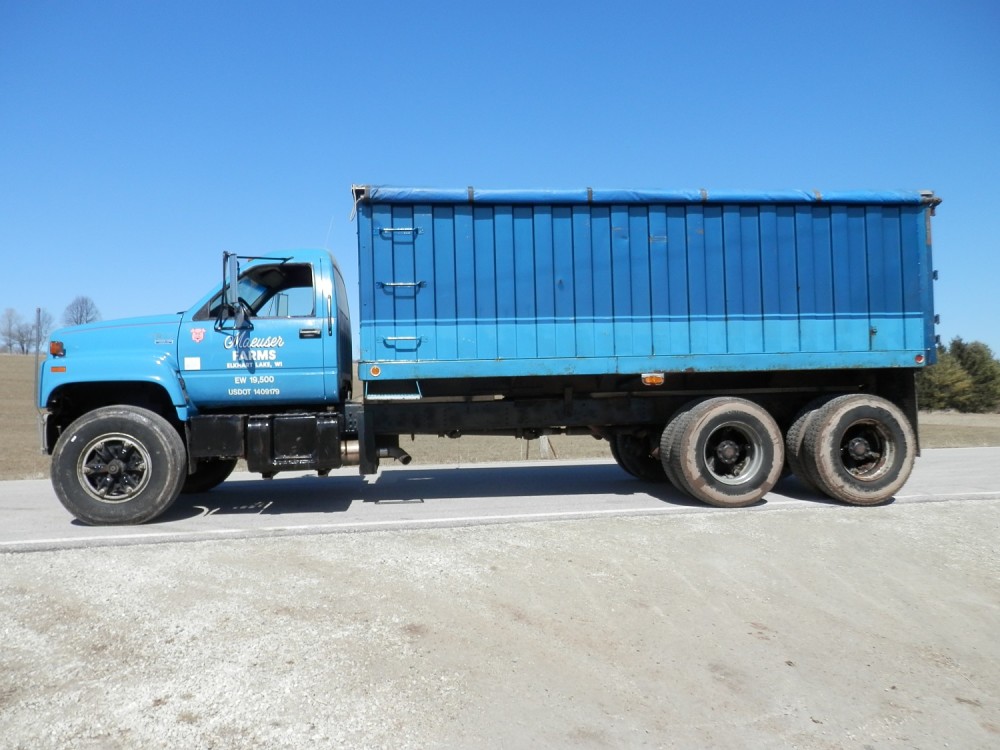 '92 Kodiak tandem axle grain body truck, 18' steel box w/hoist, roll tarp,

Cat powered—well maintained.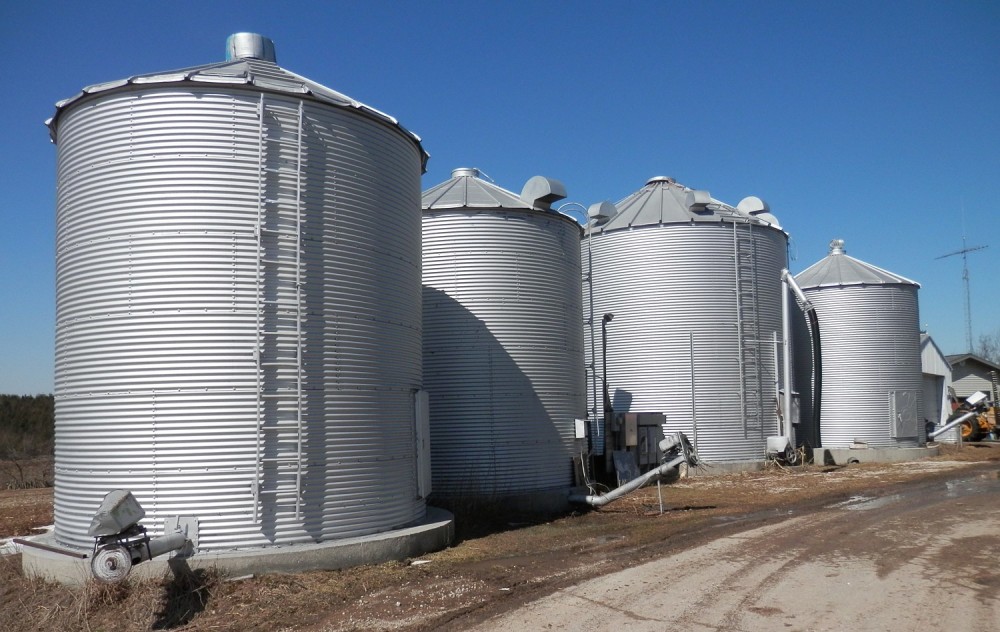 6 Grain Bins 1800 to 5000 bu., all w/dryer floors, 2 shared sweep augers,
available by June 1st or earlier.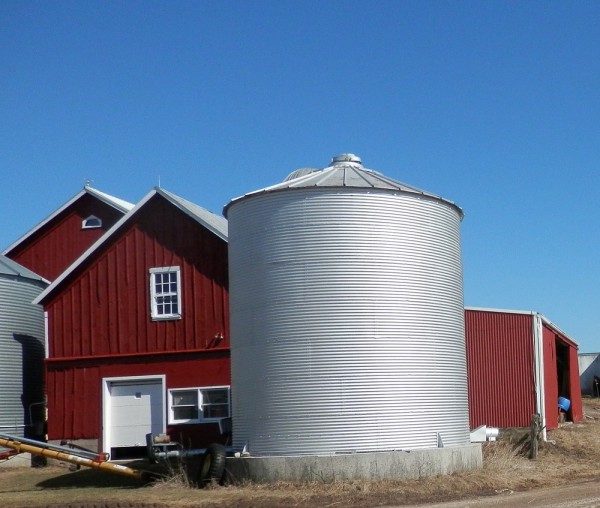 .More Misc….

Winpower generator;

3 pt. mount Crop Cure Dry Hay Preservative applicator;
assortment of lumber, planks, boards—lots of hard wood; hyd. cylinder; stell T-post for plots;
Hyd. cylinders; 8x12 4 stall building on skids, 3 sided wood construction w/steel roof,
no floor, stalls have hay feeders.

Storage building, 6x8 w/wood floor & steel sided—many uses.
Cement mixer on skid w/motor; Calf Box for Truck box; Tractor tire chains—flat style;
300 gal. poly storage tank & sprayer tank; ½ rd. 150 gal. fuel tank w/hand pump;
JD paint theme 2 ½ x 4 ½ yard trailer; Homelite portable generator;
transfer pump w/B&S gas power; Smidle 5x7  Steer Stuffer—good;
Wagon or bin style tube dryer.
Quality, quality---QUALITY!  
We hope to see you auction day!

Watch for more info & pictures soon
Can't make it auction day?  Bid online with Bidspotter.com
Simulcast live/online---click the link below to go directly to the Bidspotter catalog--
View the catalog, Register, Bid!

TERMS: Cash, good check or if unknown to auction company, bank letter of credit with state issued ID must accompany payment.   All items must be paid for at completion of sale and before removal. Number system will be used. 
All items sell as is, where is.   All announcements sale day take precedence over all matters in print.
Not responsible for accidents or merchandise after it is sold.
Download the flyer here------
Download
Miller 'N Co. Auctions & Appraisals, LLC   

 Gregg Miller, Newton, WI • (920) 980-4999 or 980-4995    
Wisconsin Registered Auctioneer #488
A few additions and more of Carl's Great Line Up!!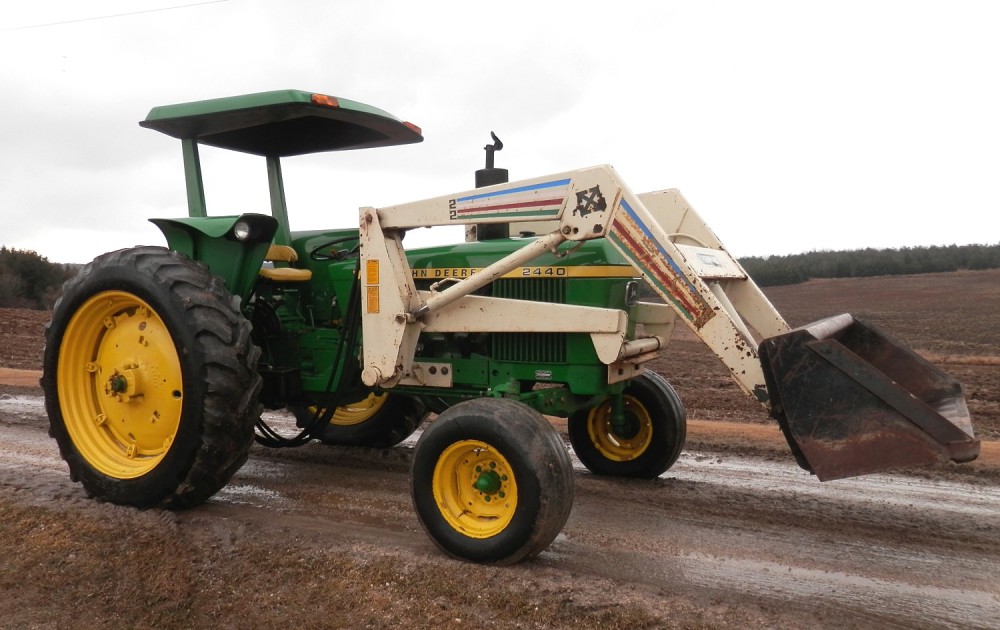 She fits right in with Carl's Quality....

One of the nicest JD 2440's we've seen in a long time, and the
last tractor from Zipperer's Crooked River Hereford's.
JD 2440 Utility w/ROPS/Canopy, Hi-Lo, DL, 540 pto, 3-pt., and Dunham Lehr QT all-hyd. loader.

Tractor has limited hours on OH & general Go-through, paint is excellent.
Tractor starts & runs great!  SN 2440B  272959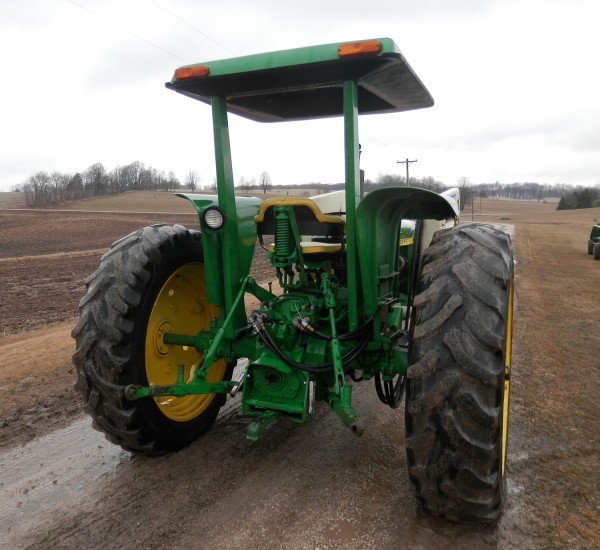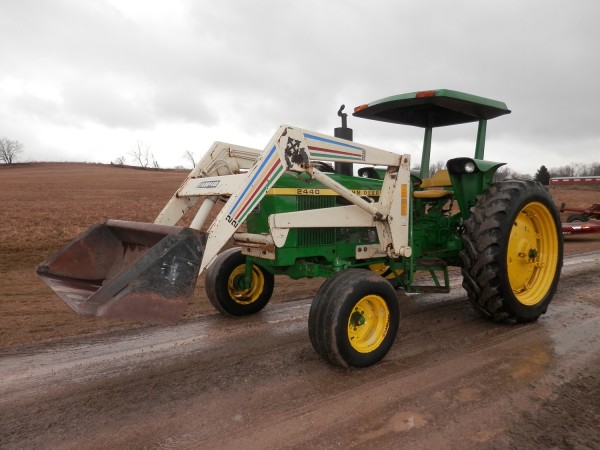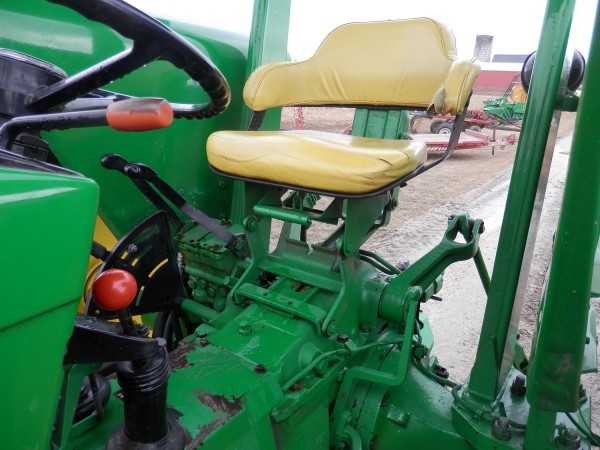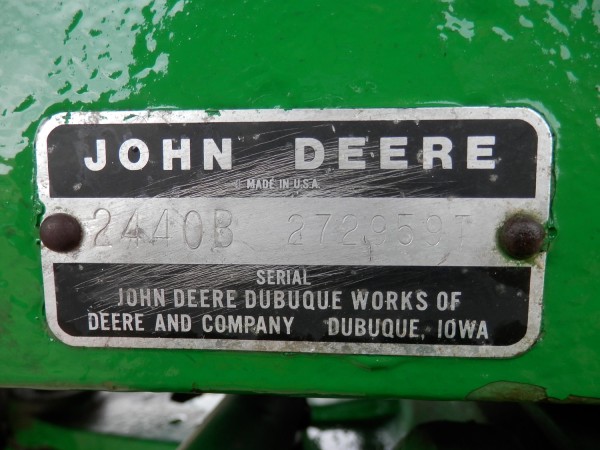 Also coming---from Sixel Farms...(pictures at end of listing)
New Holland 7810S open platform, ROPS tractor, 8-spd., 540/1000 pto,

18.4R-34's (90%), rear weights, 6 suitcase weights.
Super looker, runner, & driver --only 3495 hrs. and from an excellent home!

 New Idea 484 Round Baler, hyd. tie, 540 pto, shedded &  nice paint!

CIH 5100 10' 6x20 grain drill, press wheels, front grass, rear hitch, track eraser--super clean & bright paint!

H&S Round Bale Hauler, single axle, double front dolly--shedded.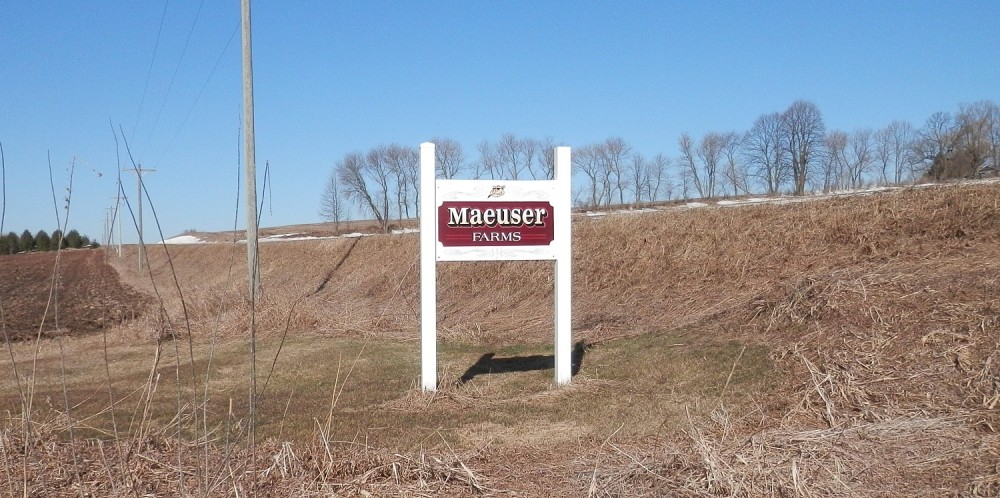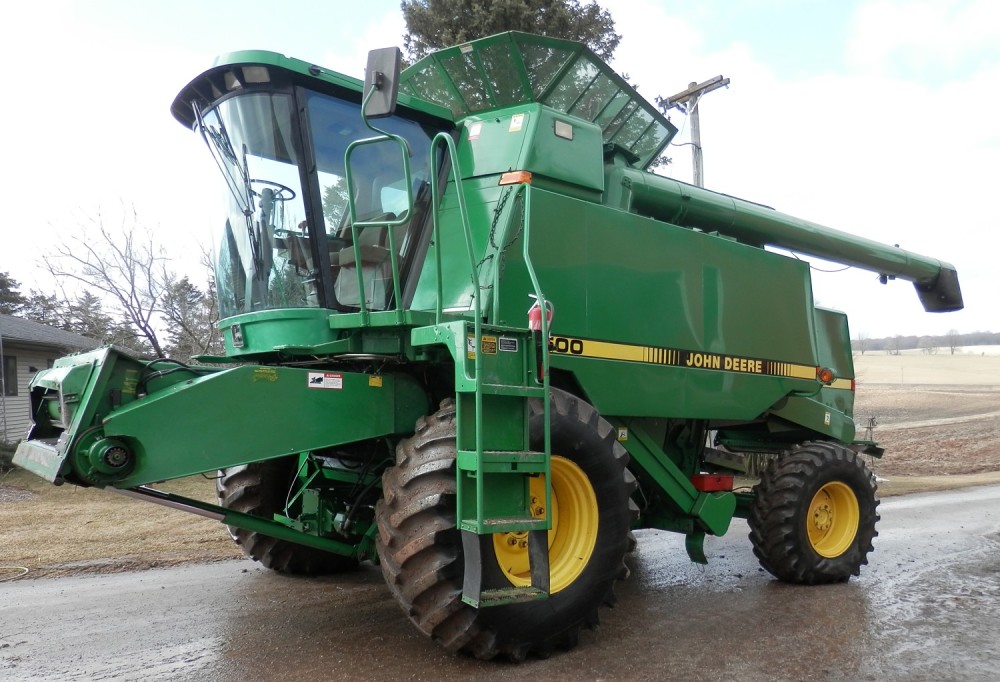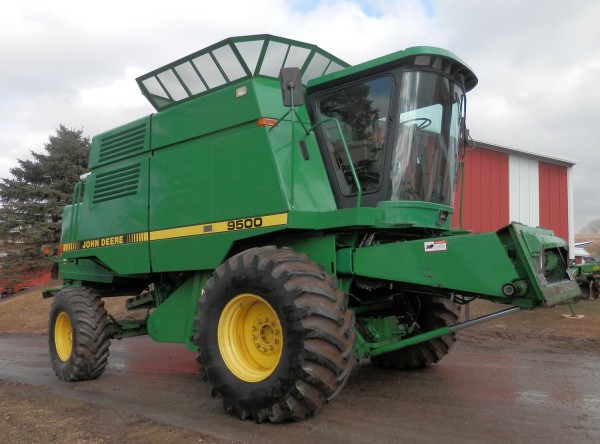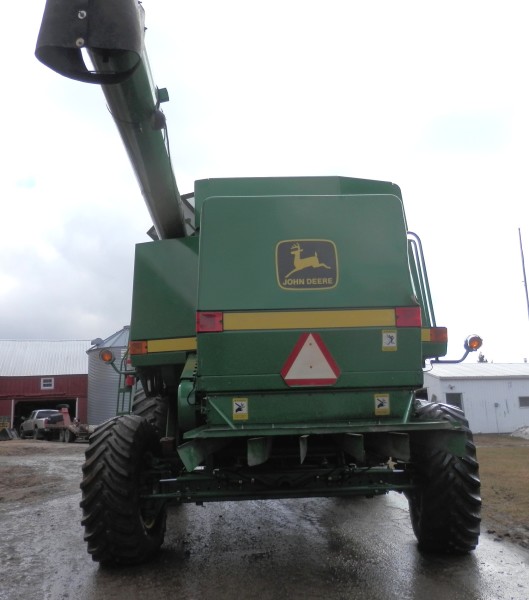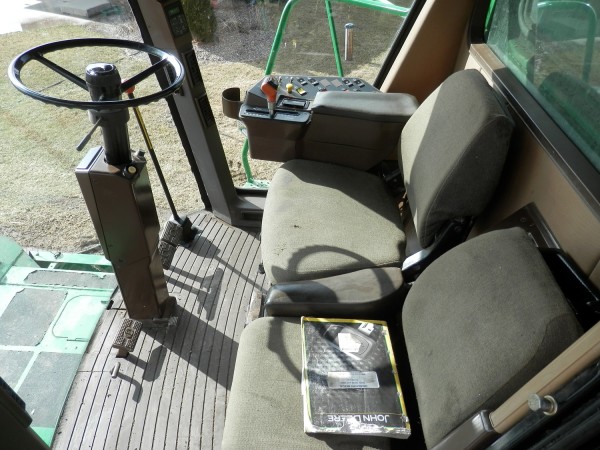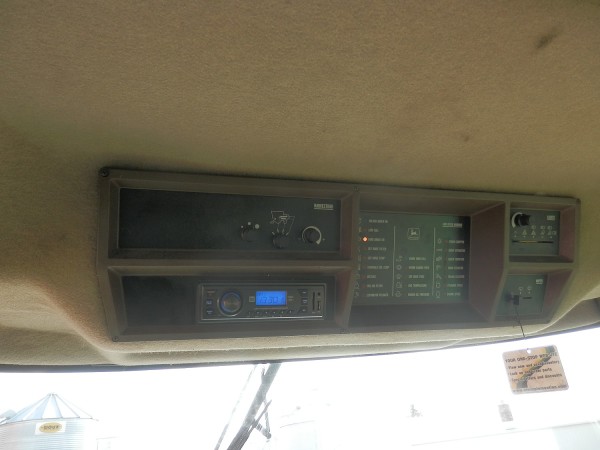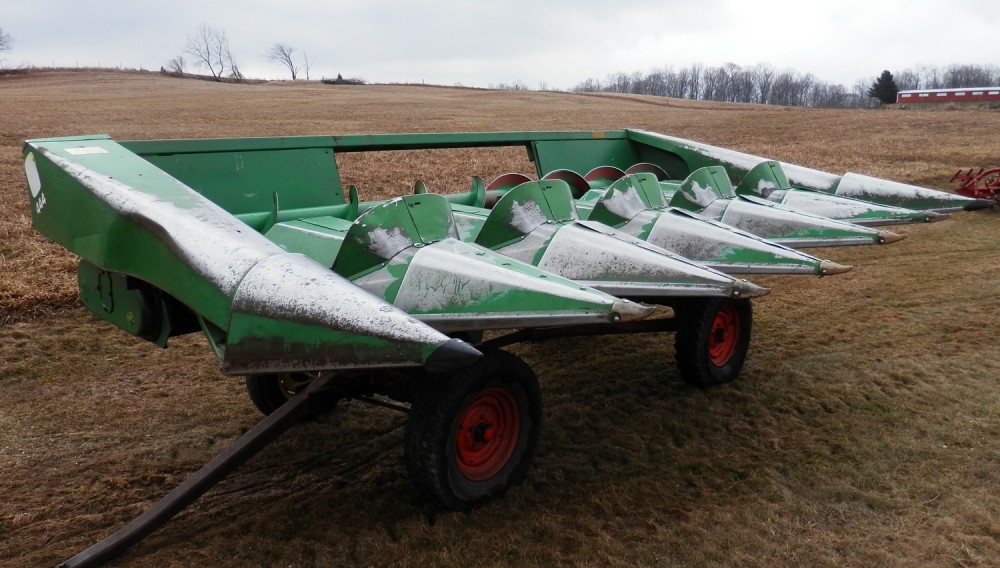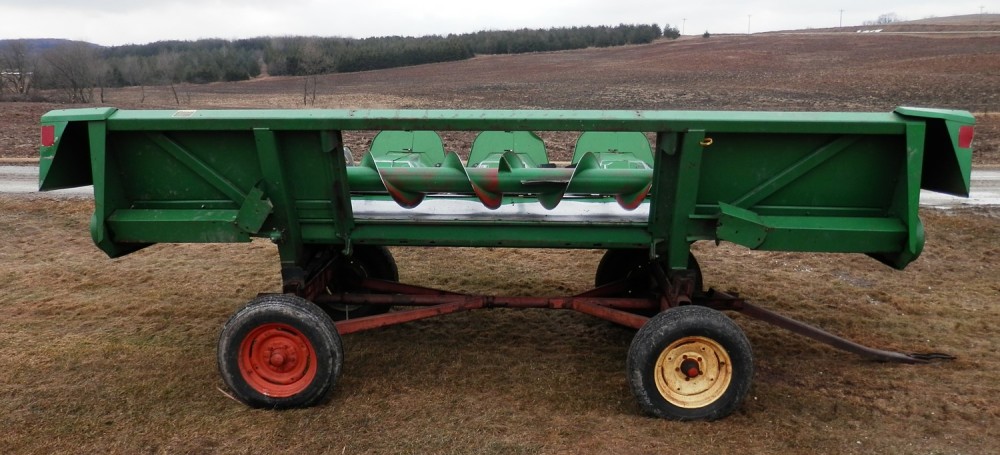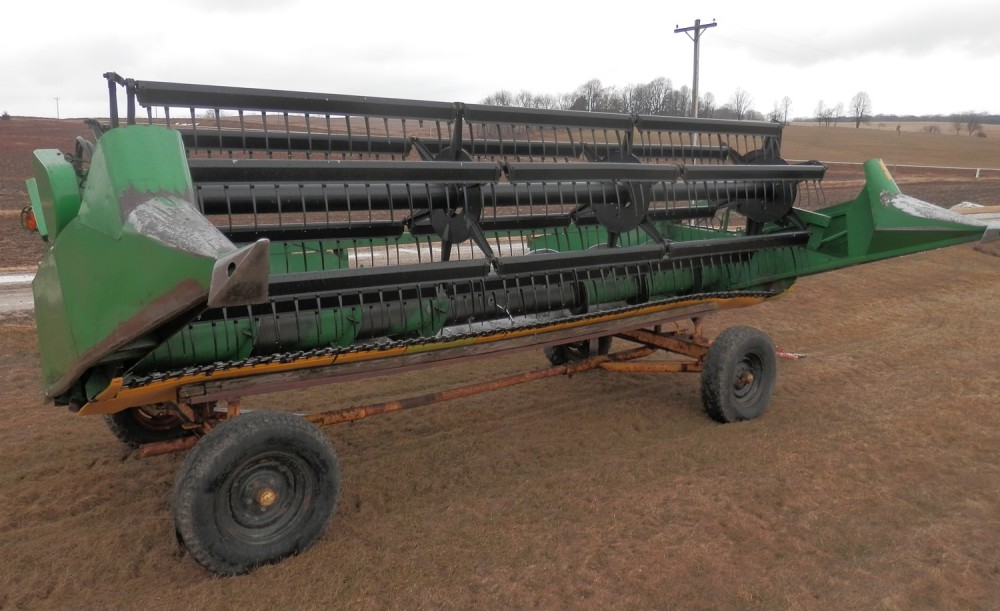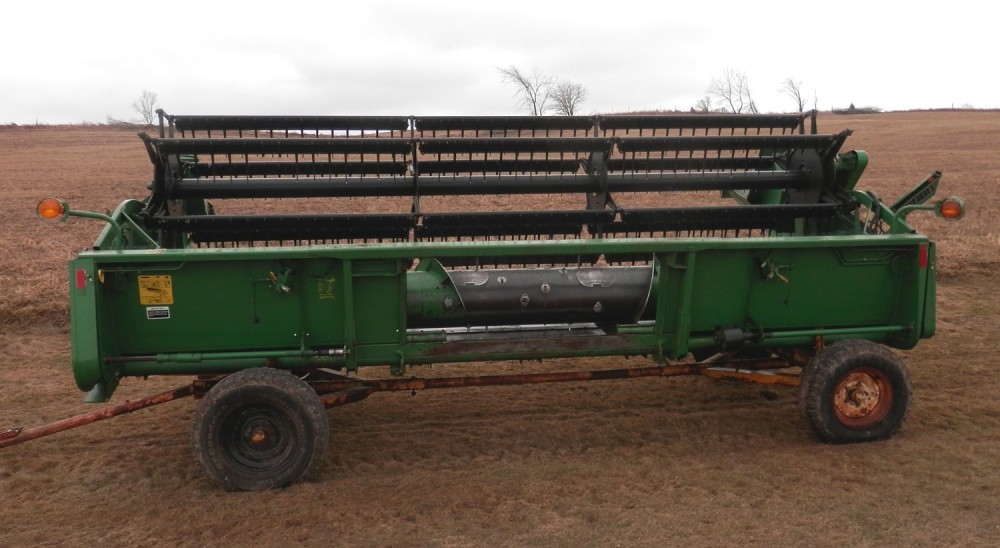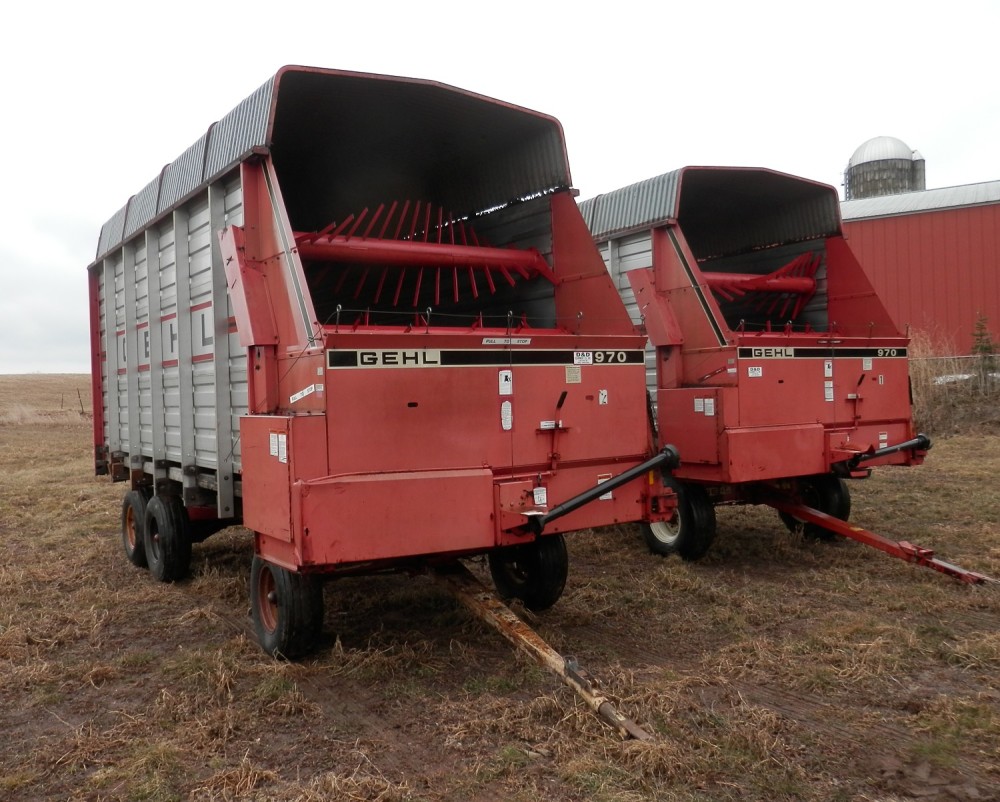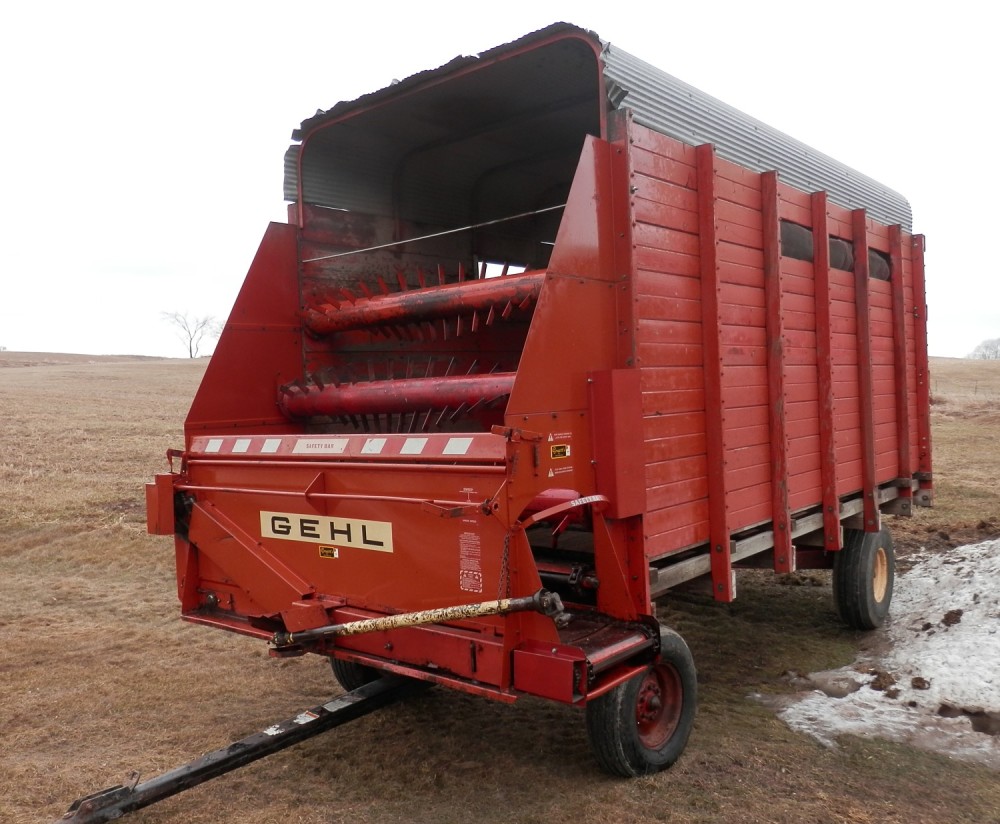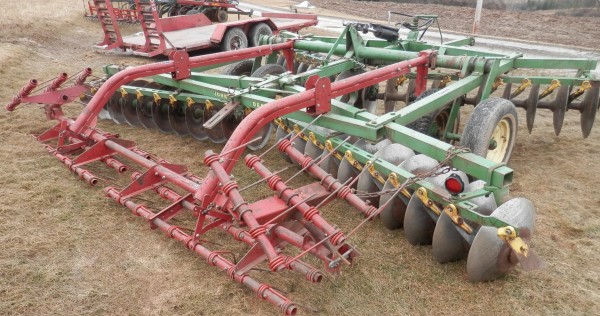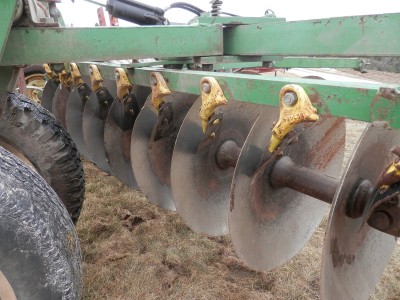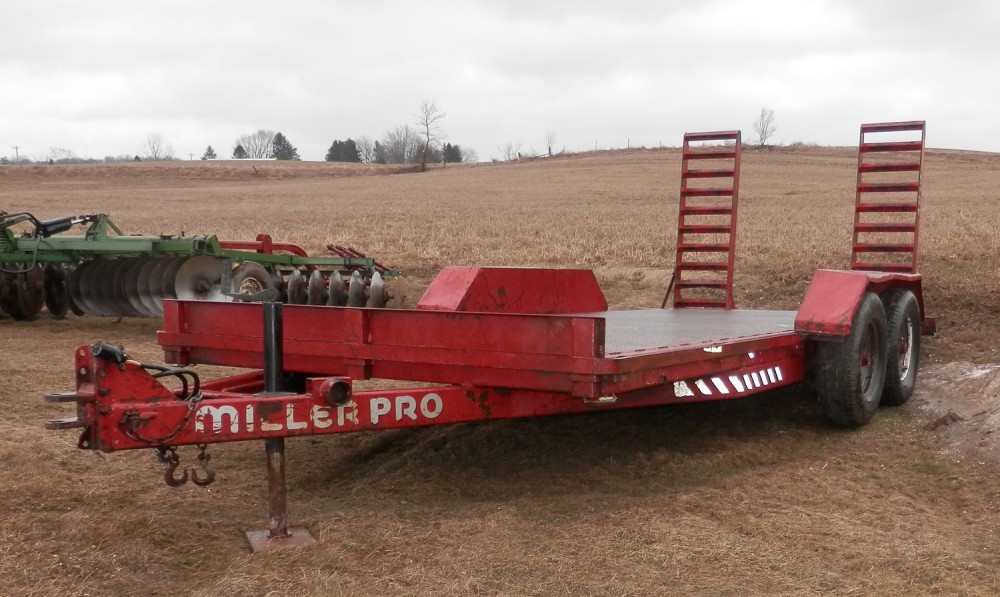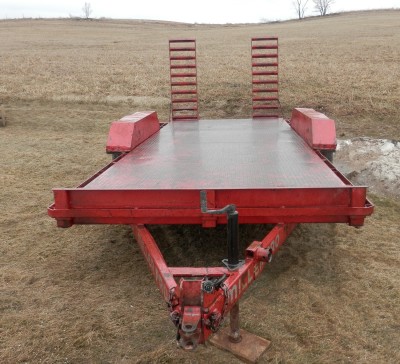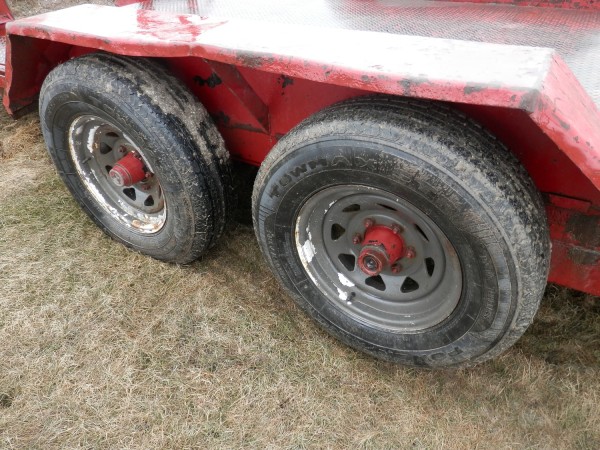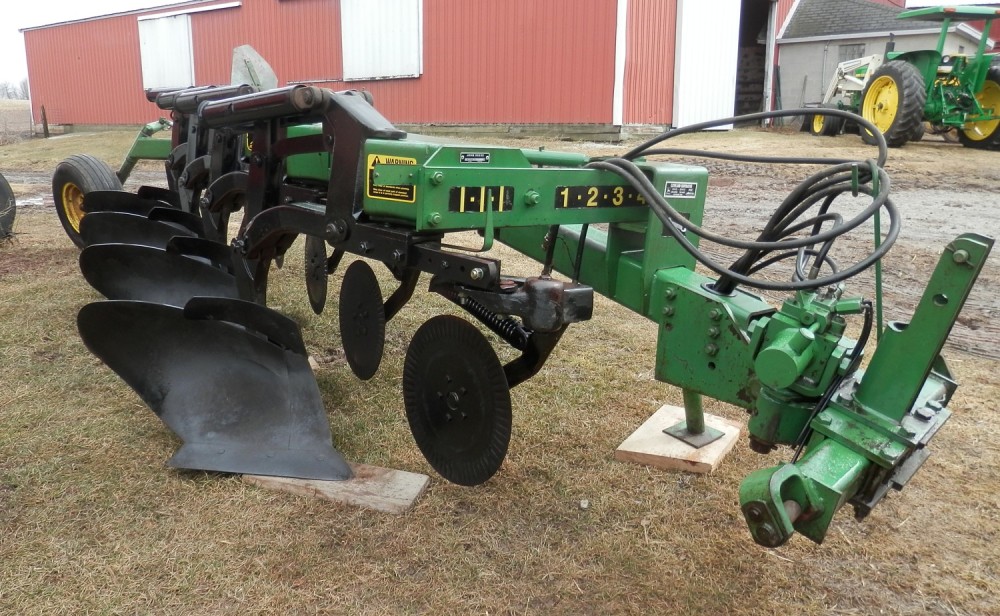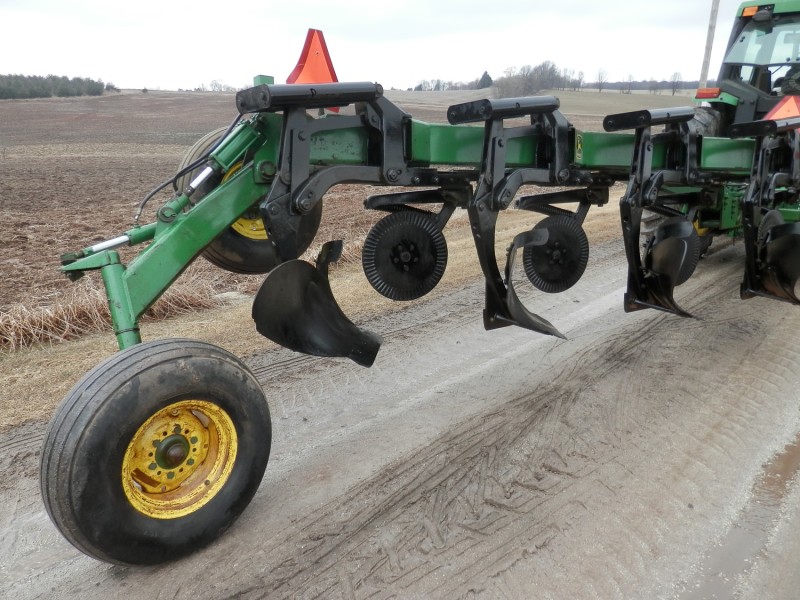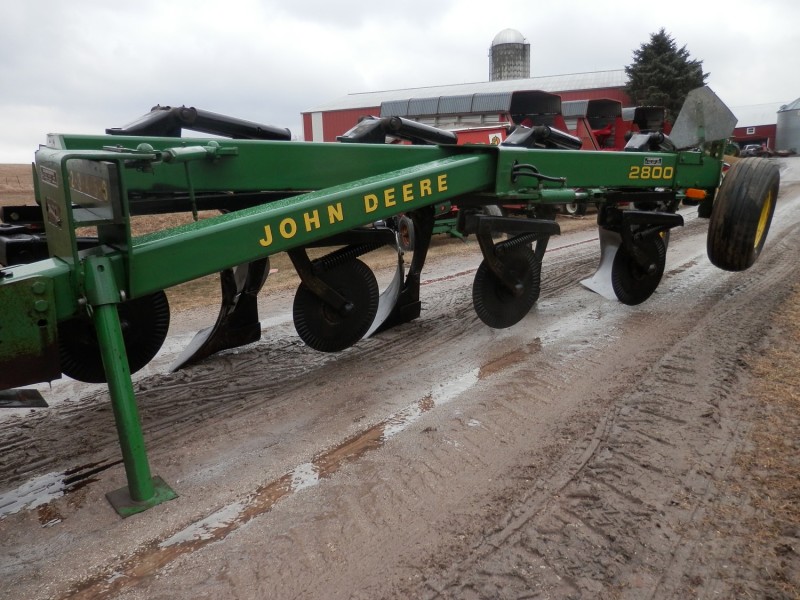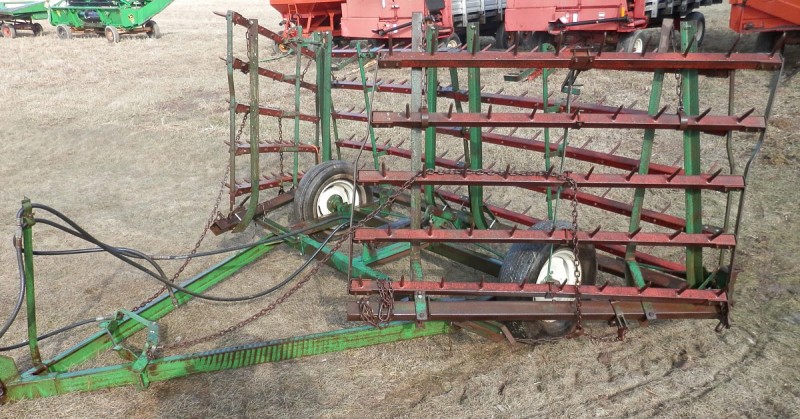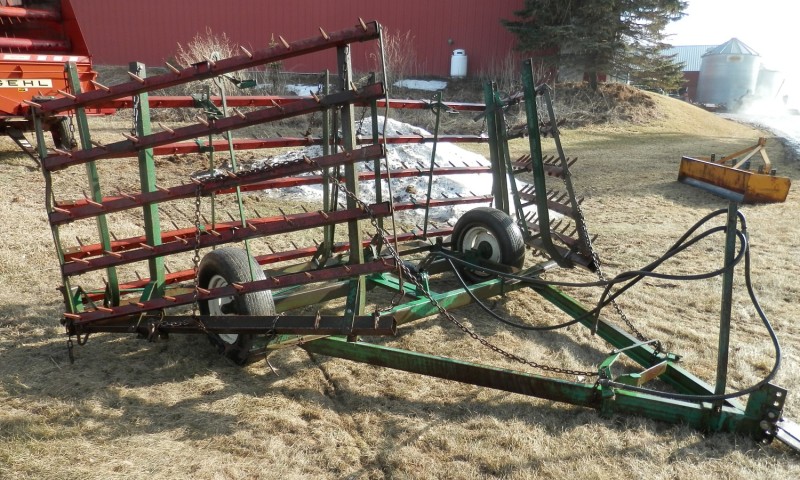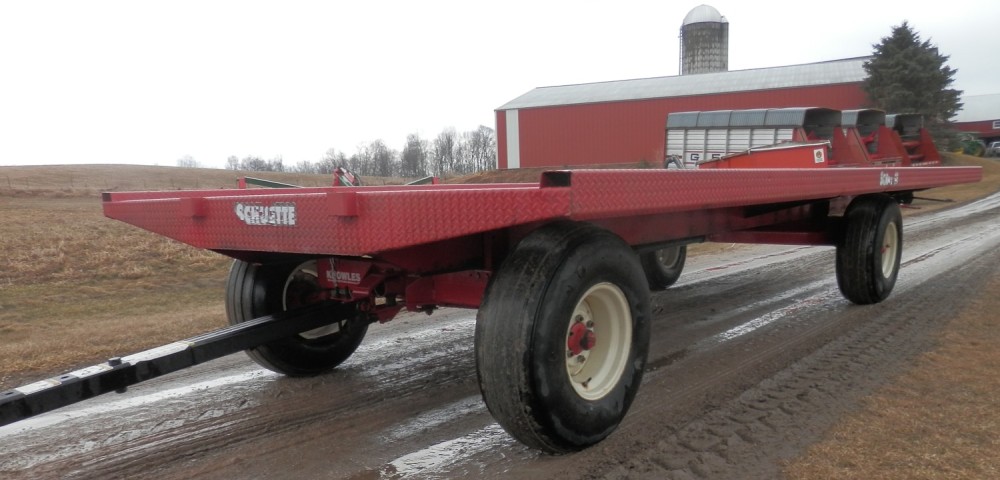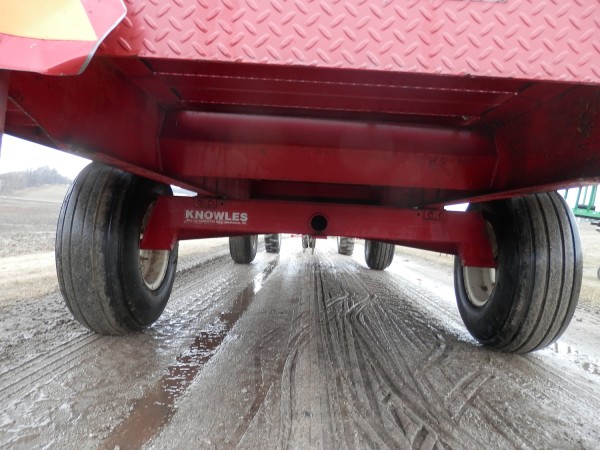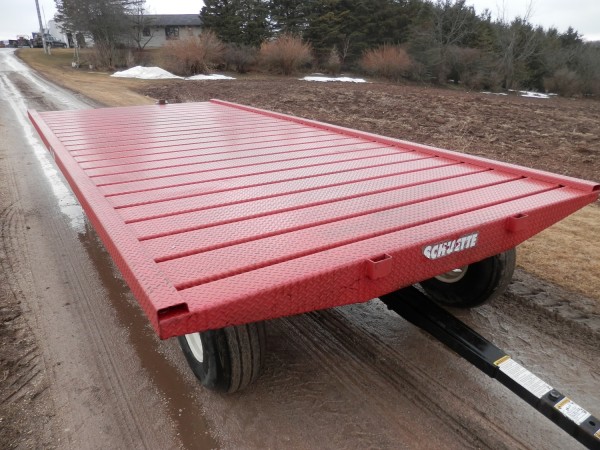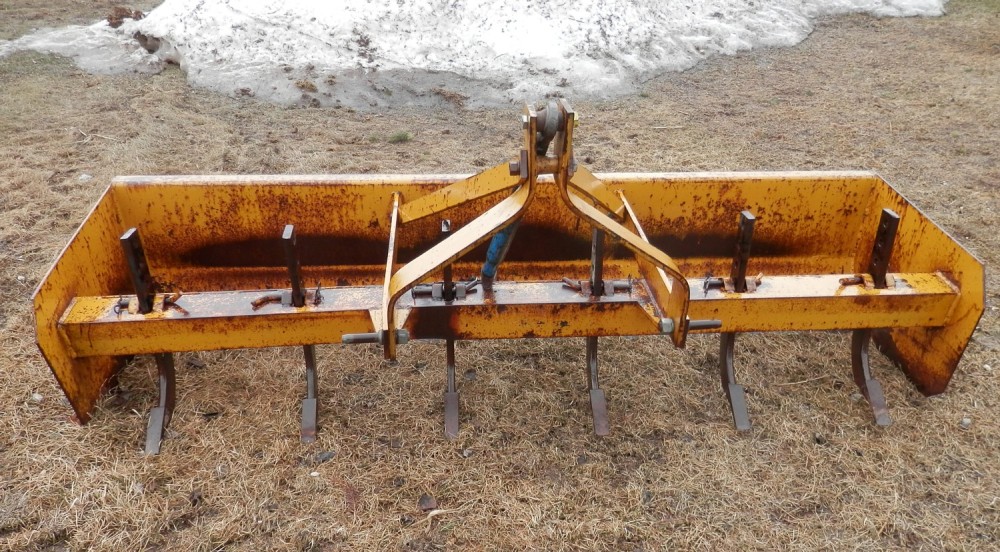 More pictures and views here.....
Check out this small farm equipment from Sixel Farms!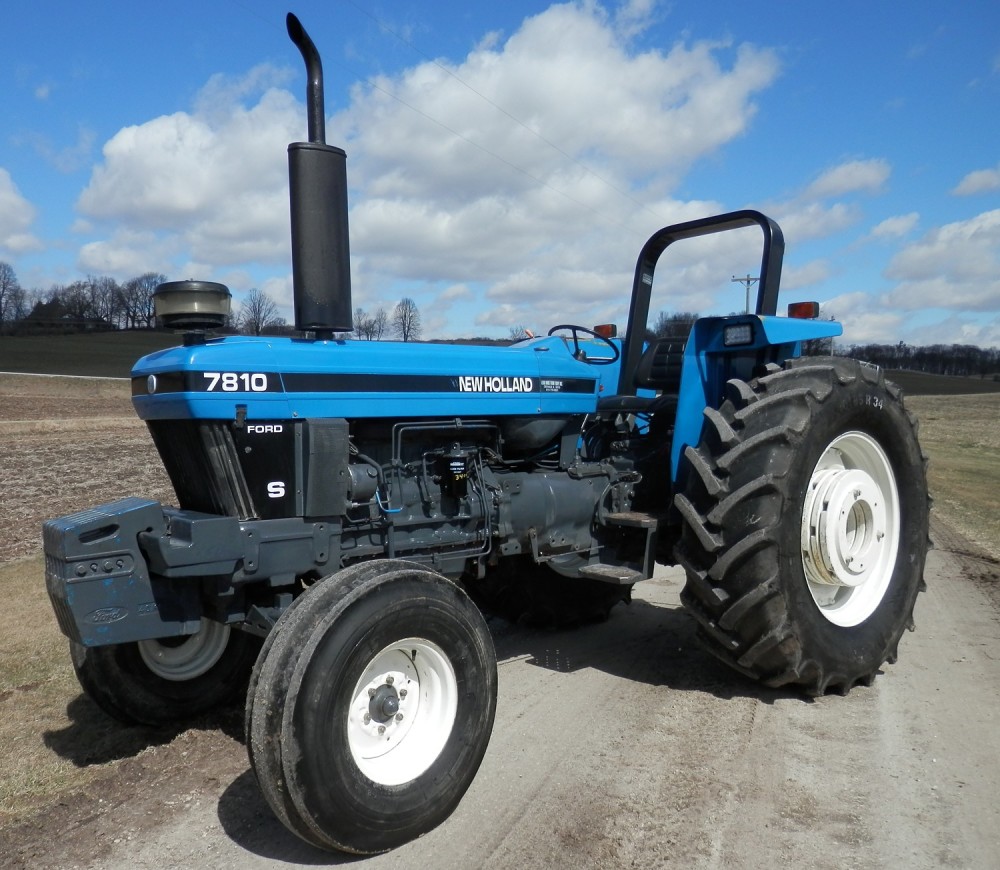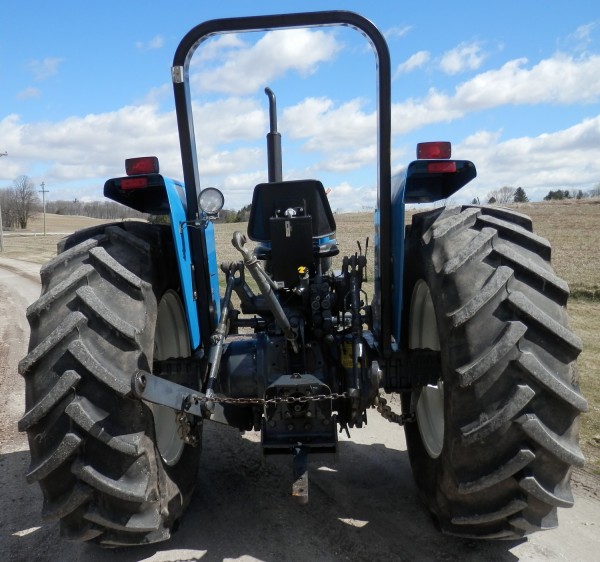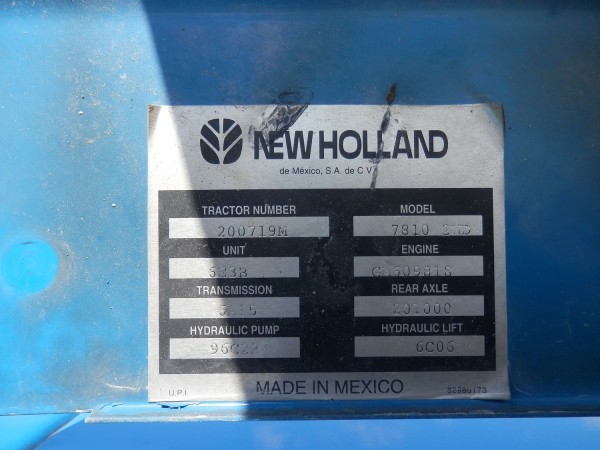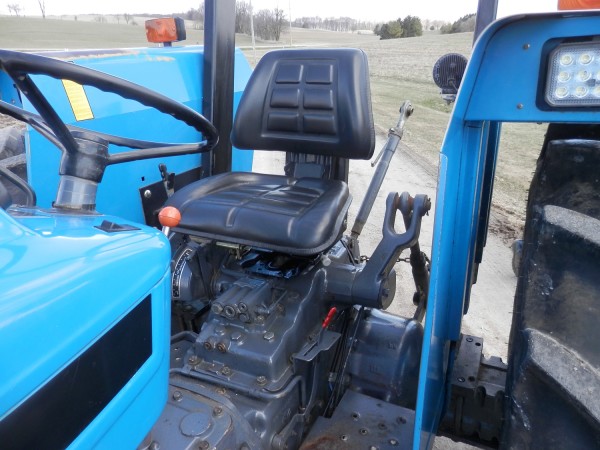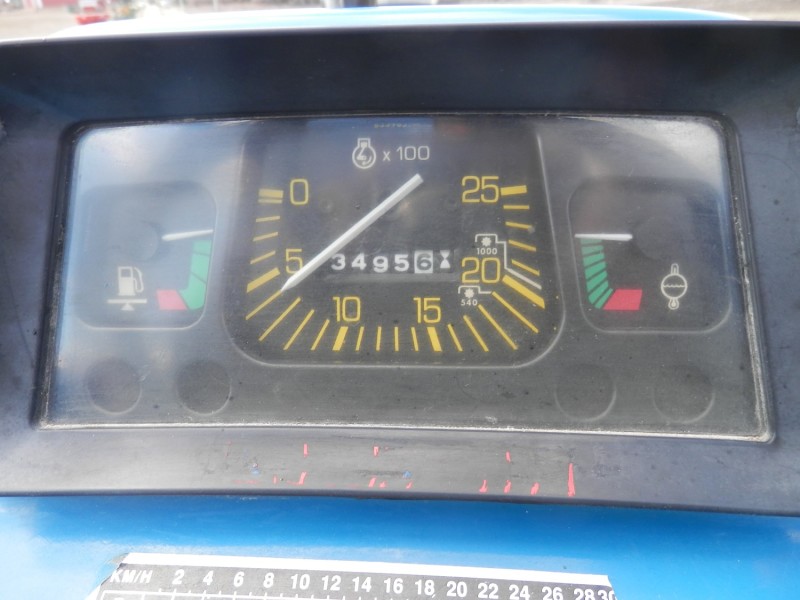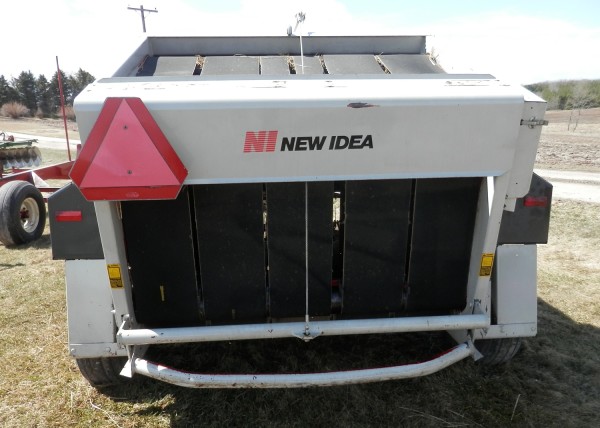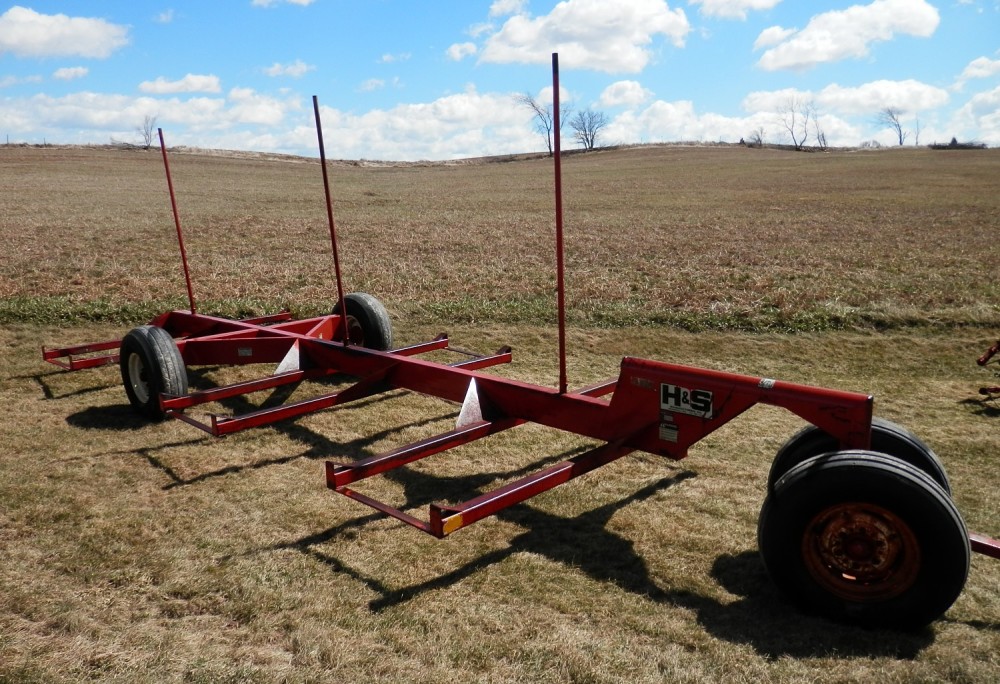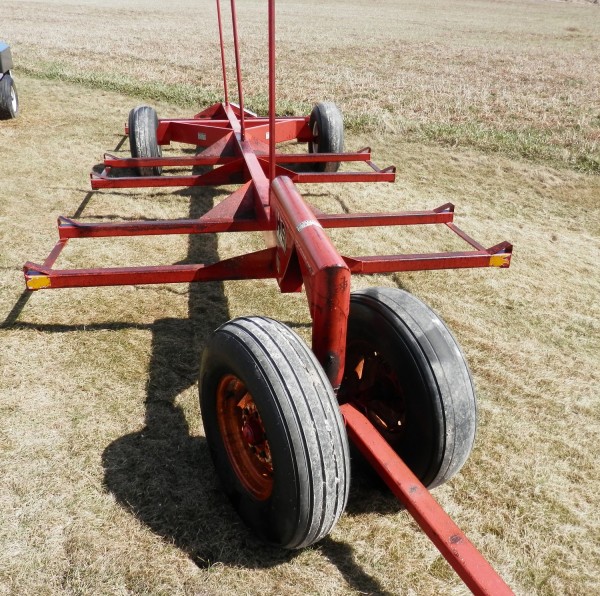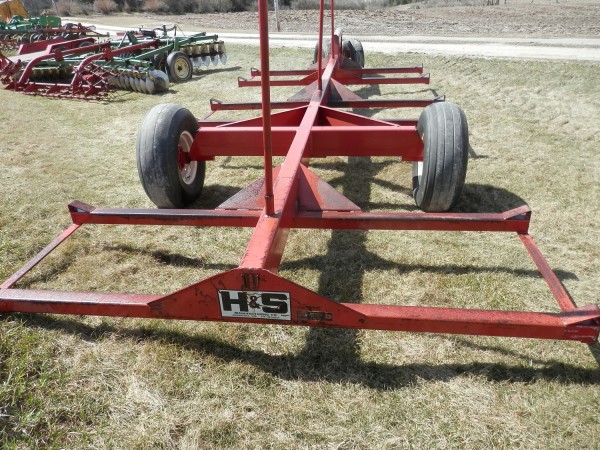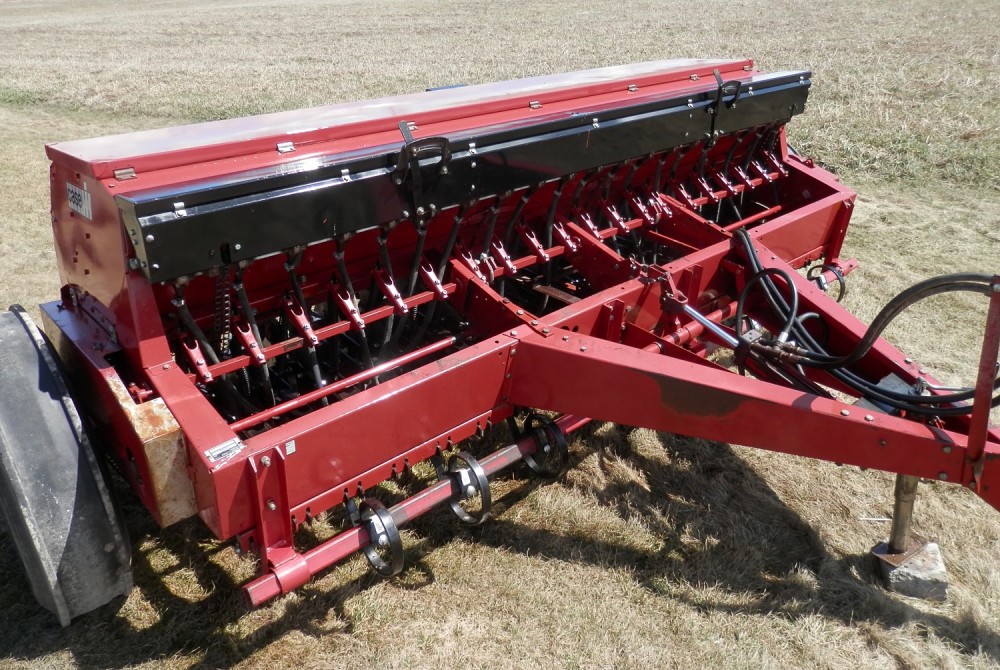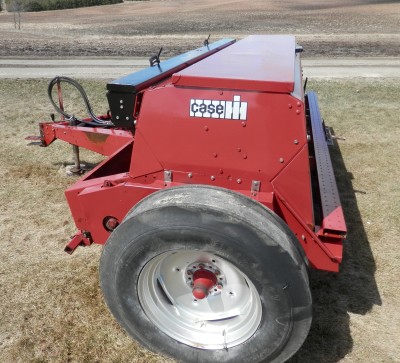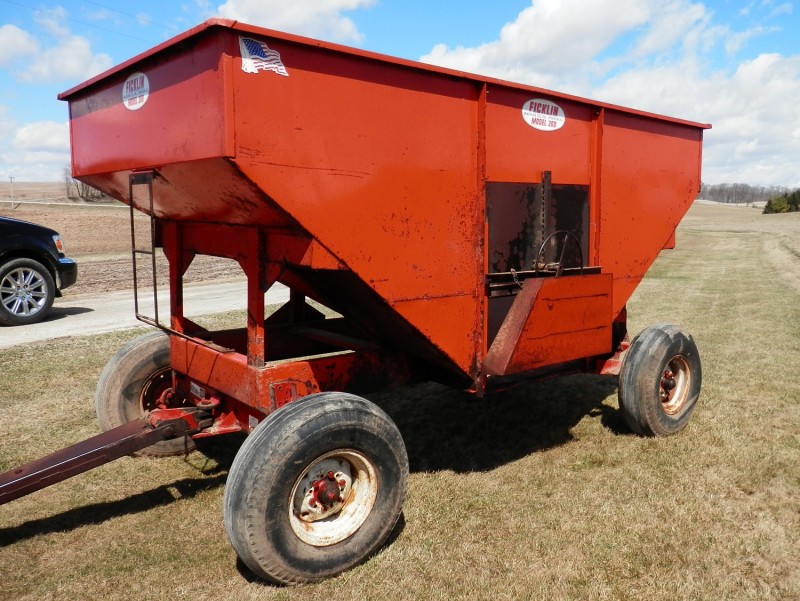 MORE CARL!

Carl just added his sharp '77 Ford 800 Custom Cab, Cab-Over 13' grain body  w/ShurLoc Roll Tarp, V-8 gas power, Auto, 19,000 original miles--originally a fire truck, what a sweet ride!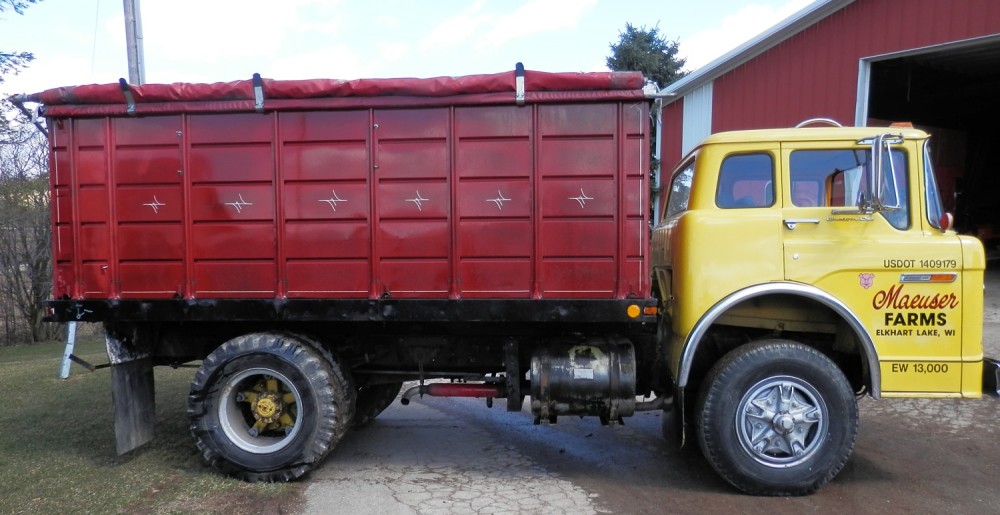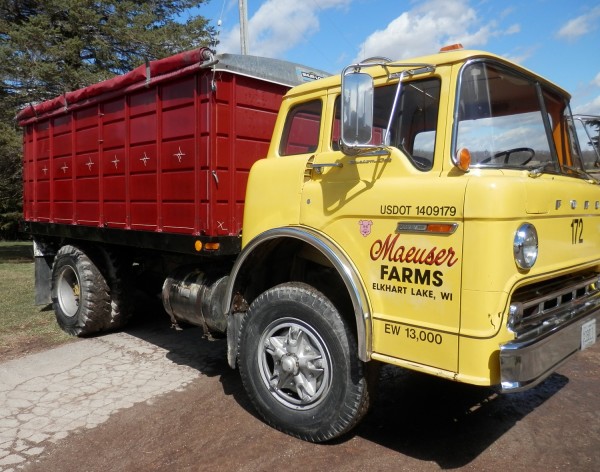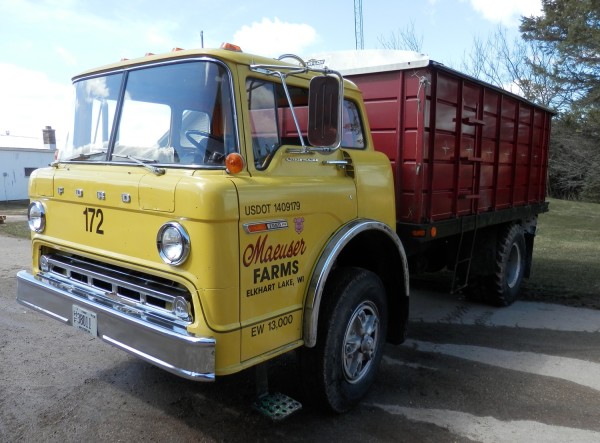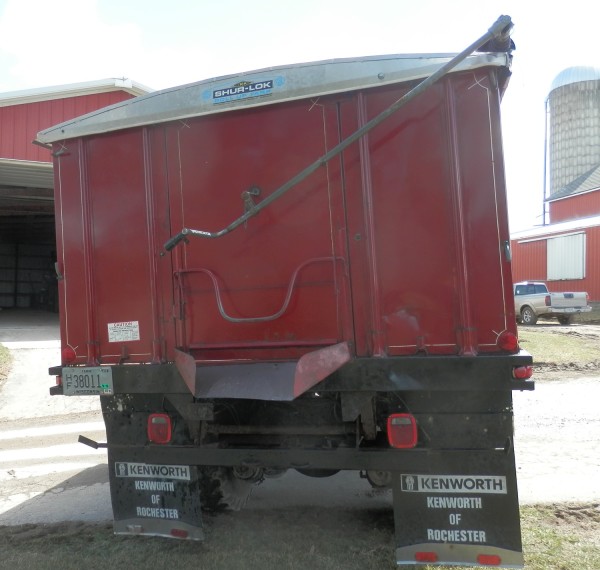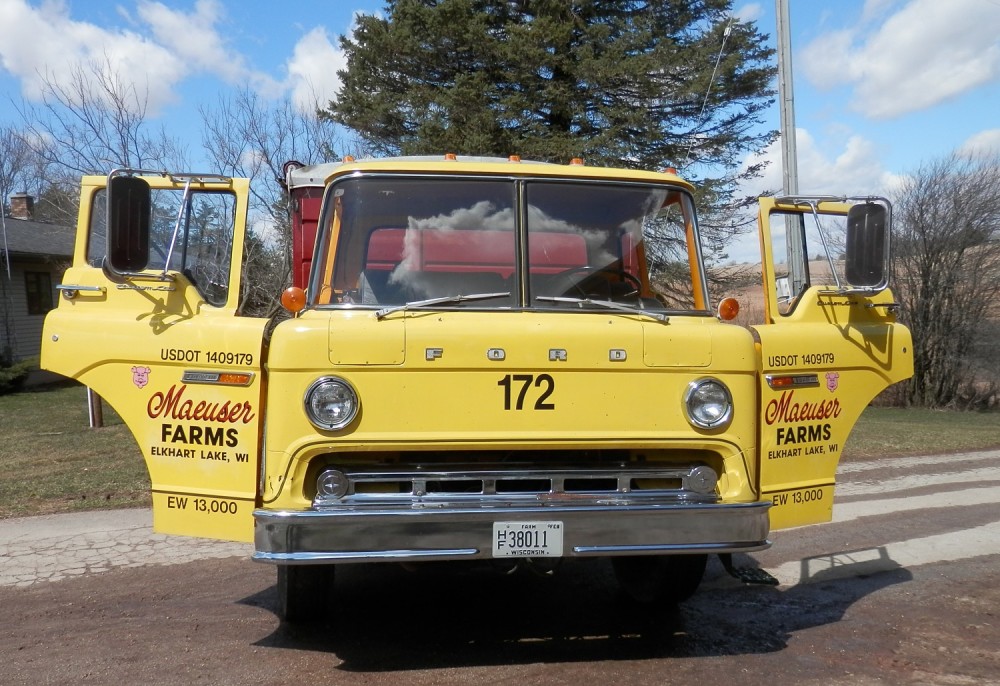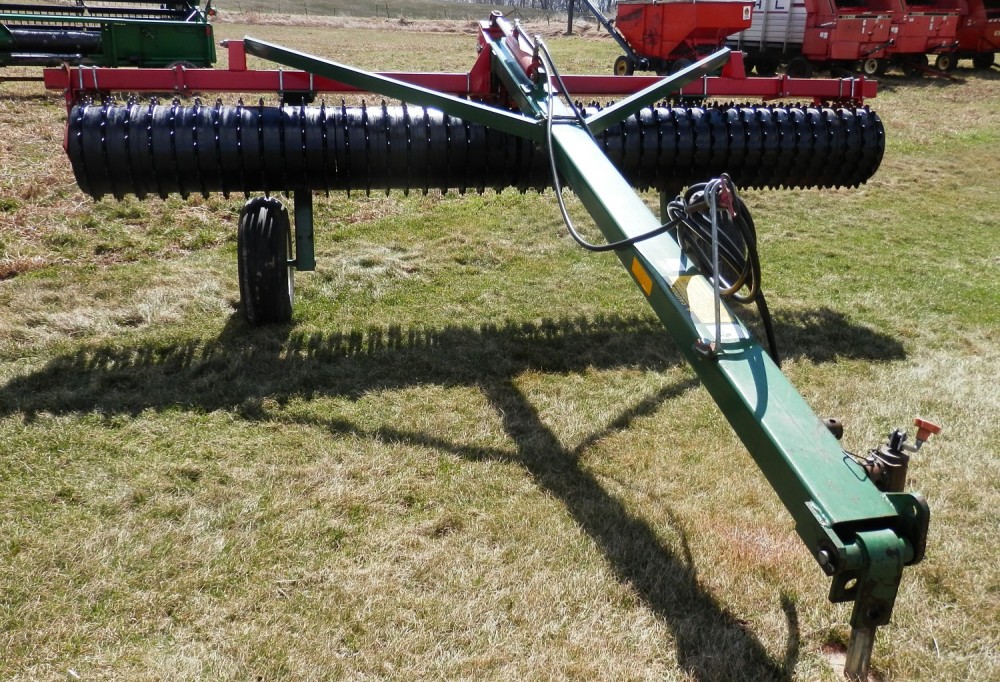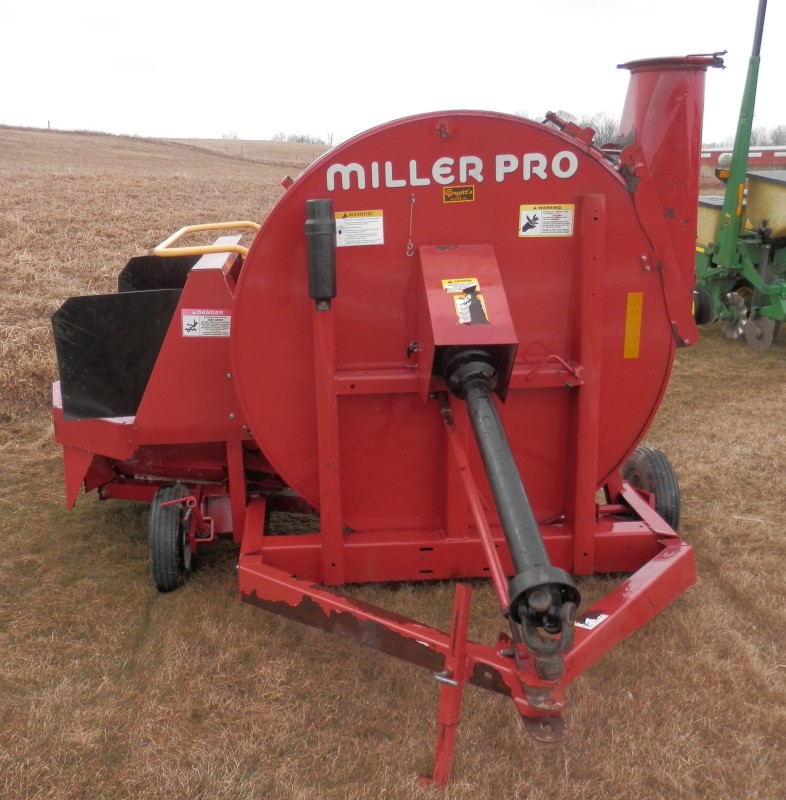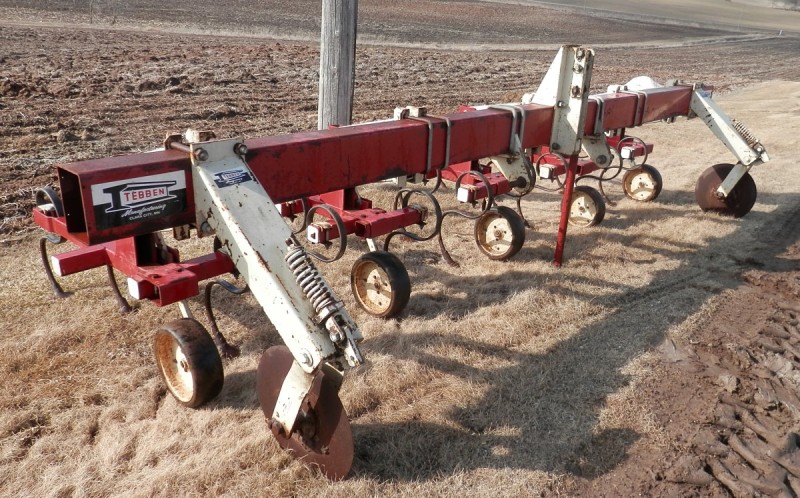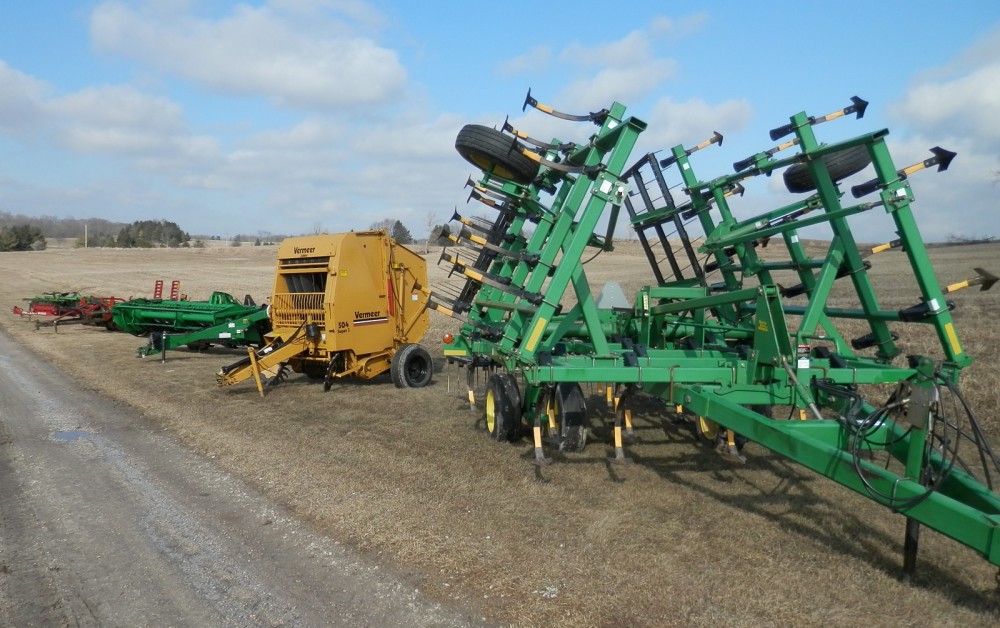 The sun was shining Monday as the line-up continued at Carl's.  
A few new views of already advertised equipment and a few new
pieces have found their way to Maeuser's Farm.
Take a look!  We hope to see you Thursday, April 18th!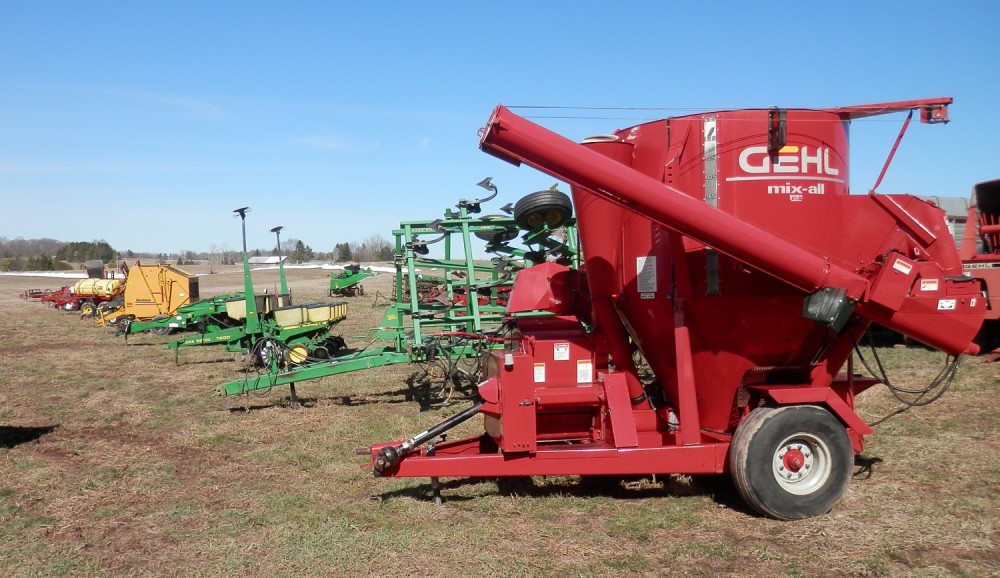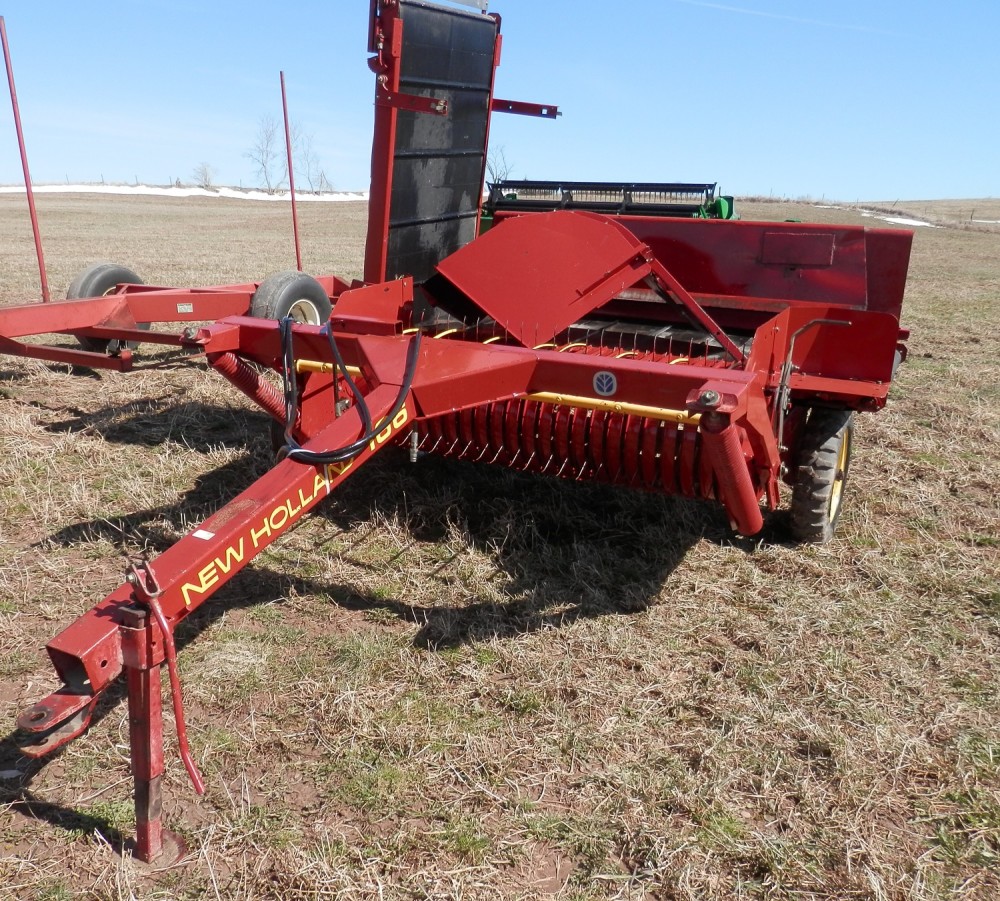 Fiat New Holland 166 Hay Inverter w/fold down extension, nice paint, belts, and pick up!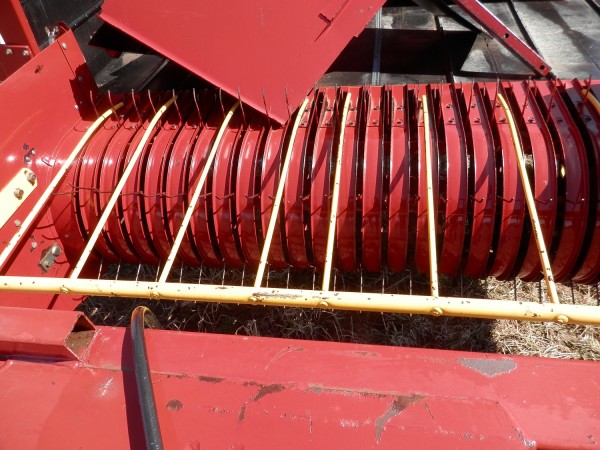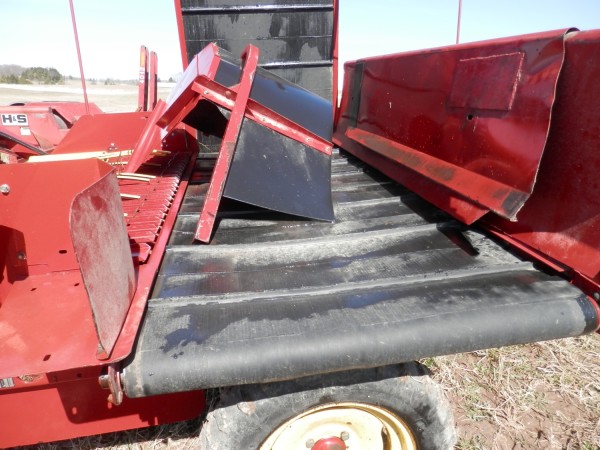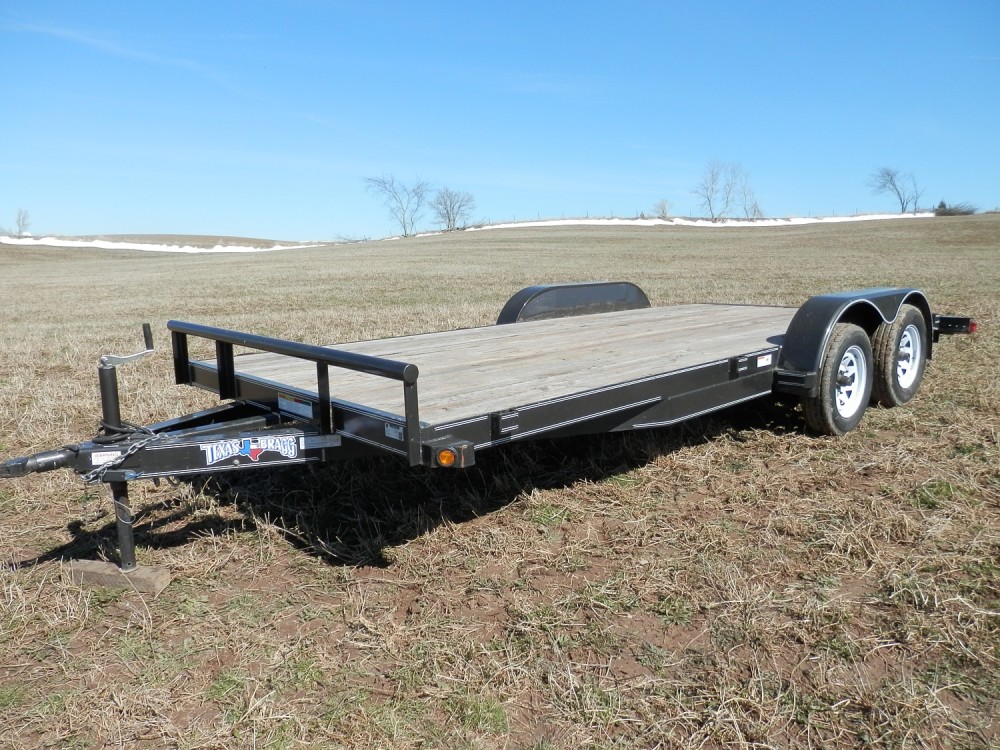 Later Model Texas Bragg 6x18' bumper trailler

Tandem axle, 5-hole rims, self storing ramps, 2' beaver, 3500 lb. axles.
Very limited lifetime use--clear title.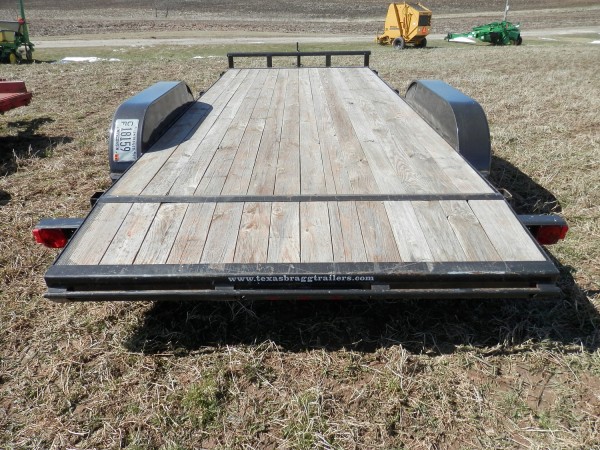 Still coming in....6x20' bumper cattle trailer, tandem axle, center divider, combo rear door-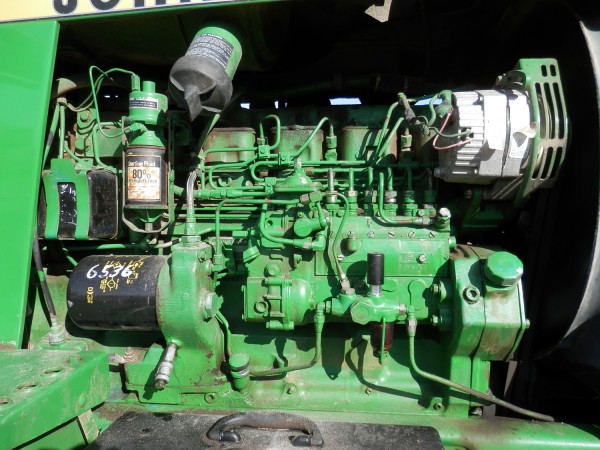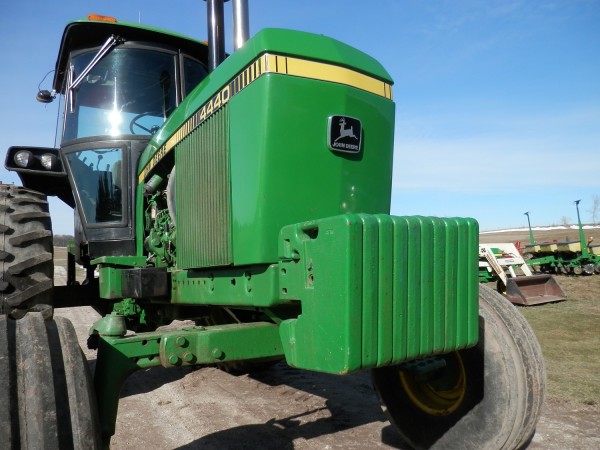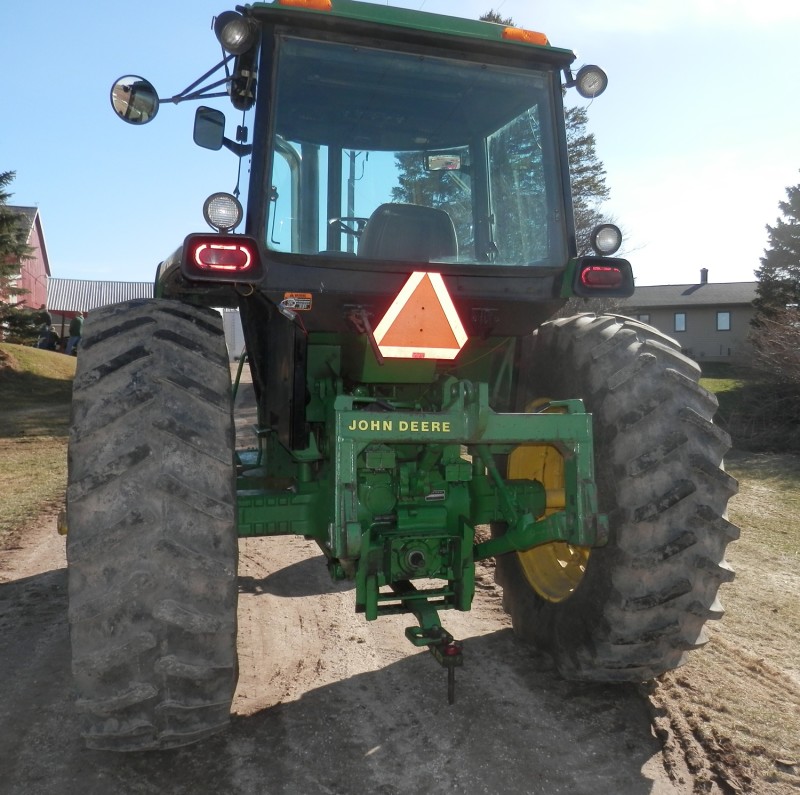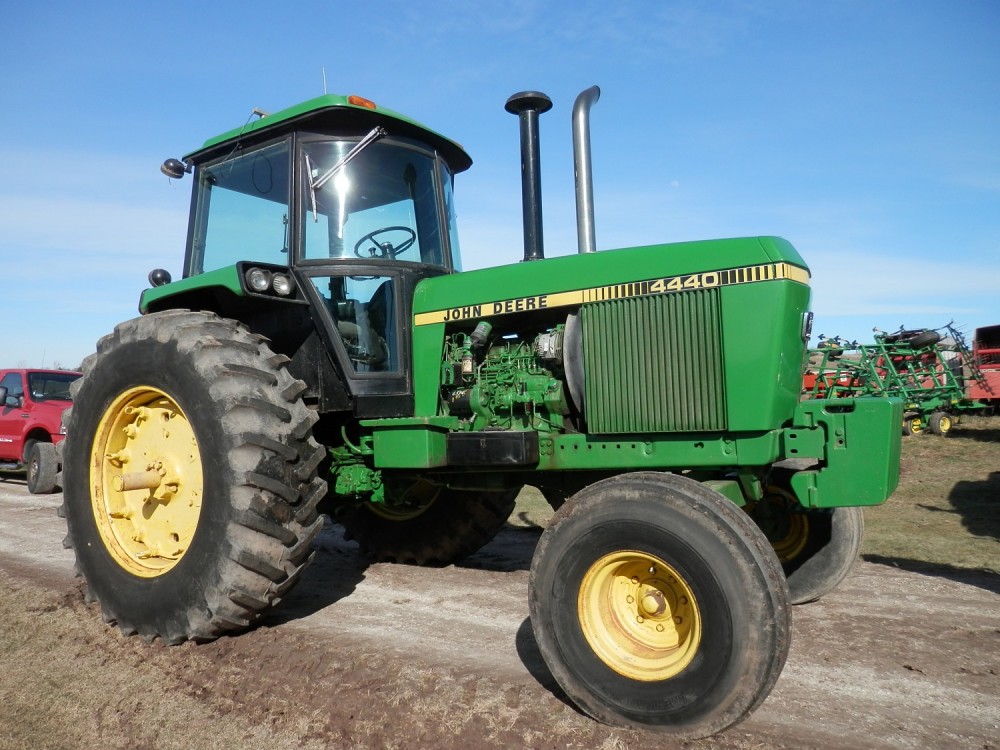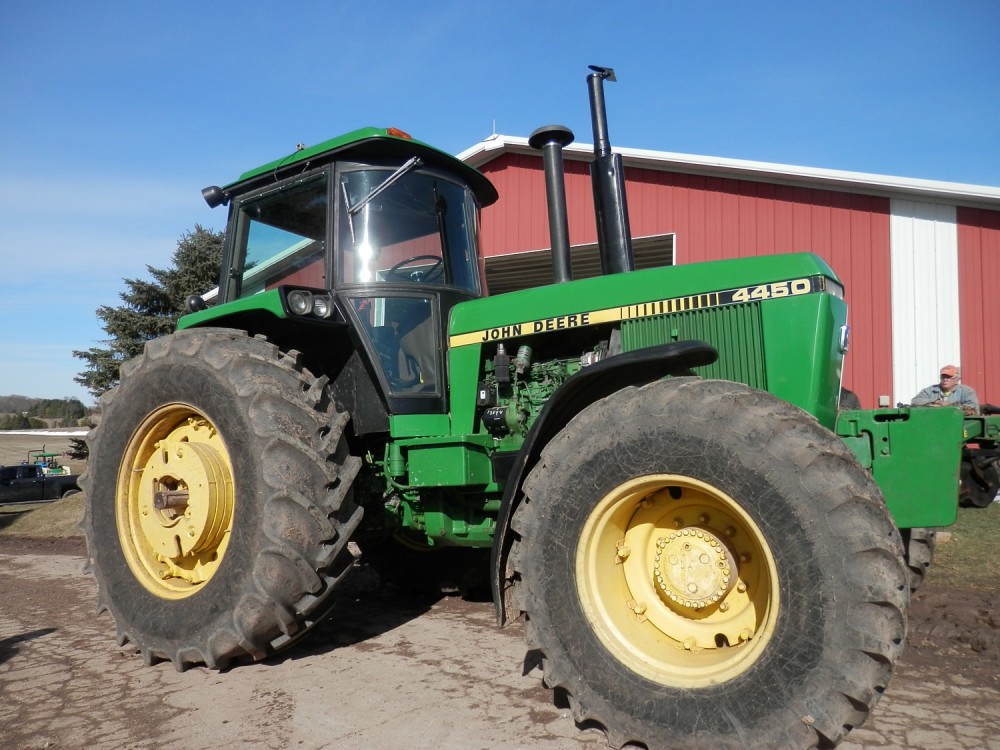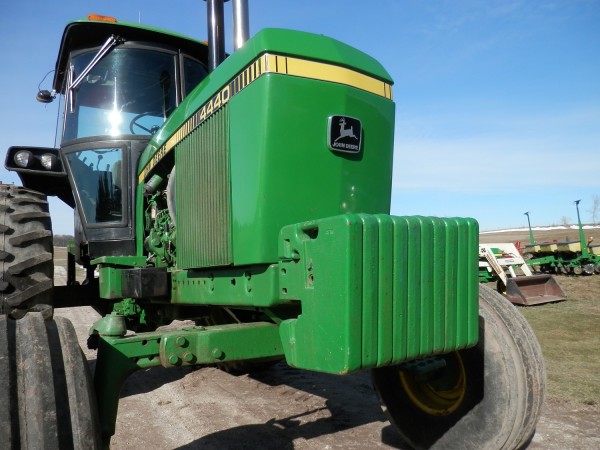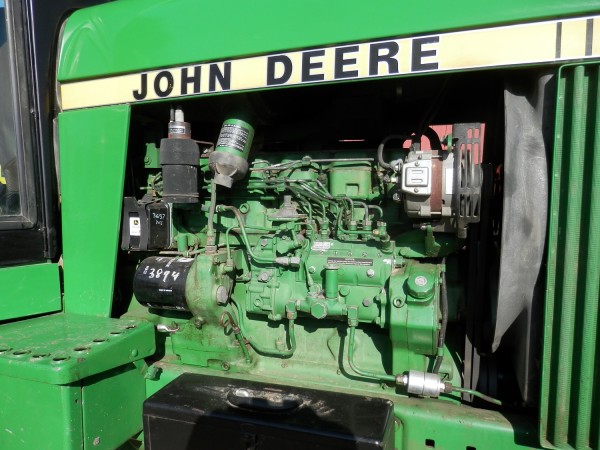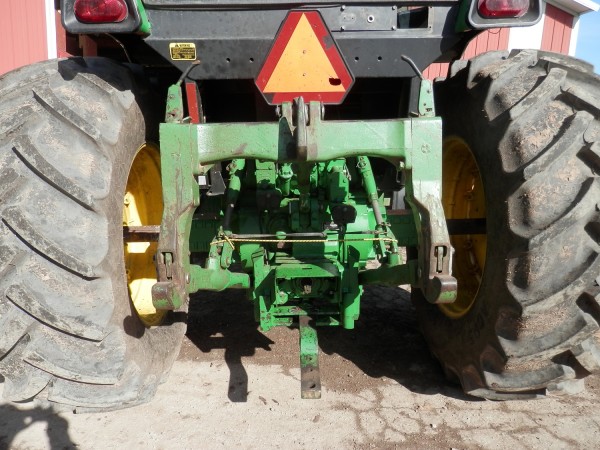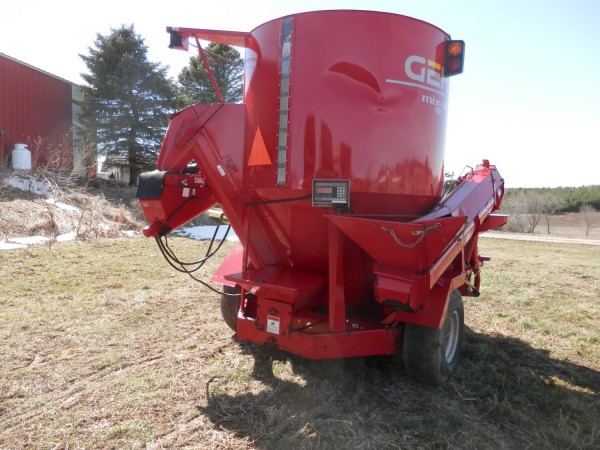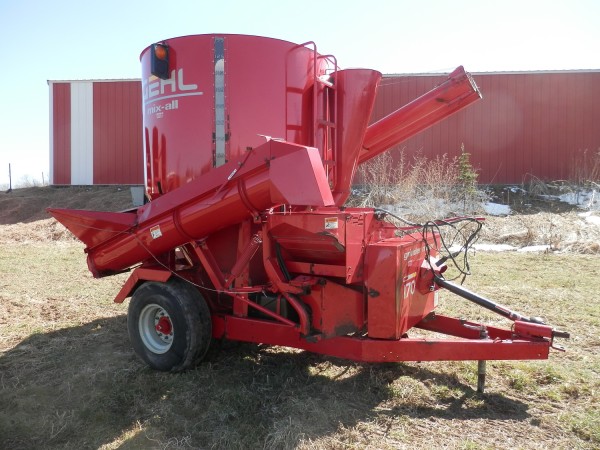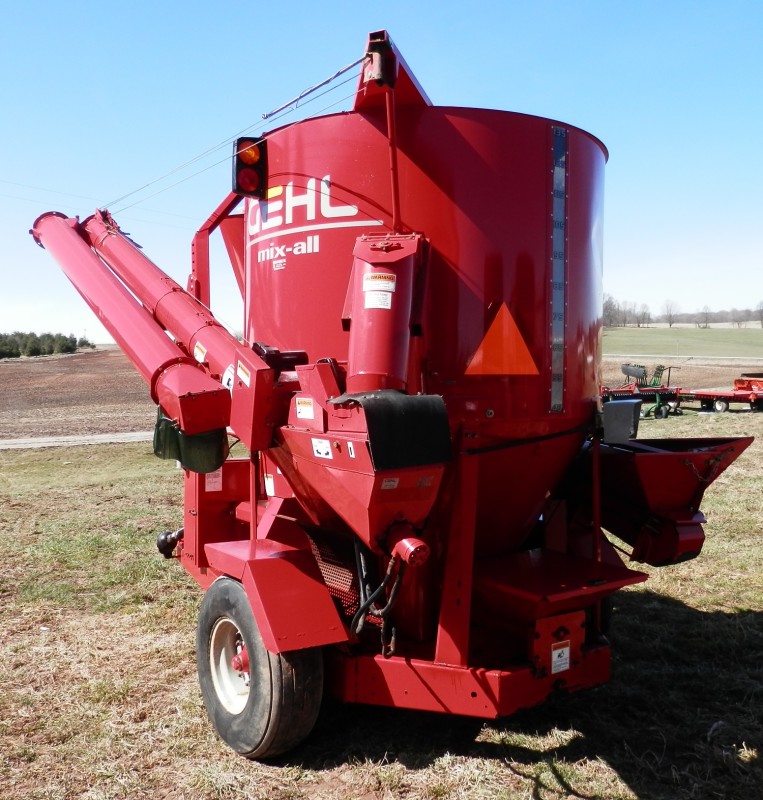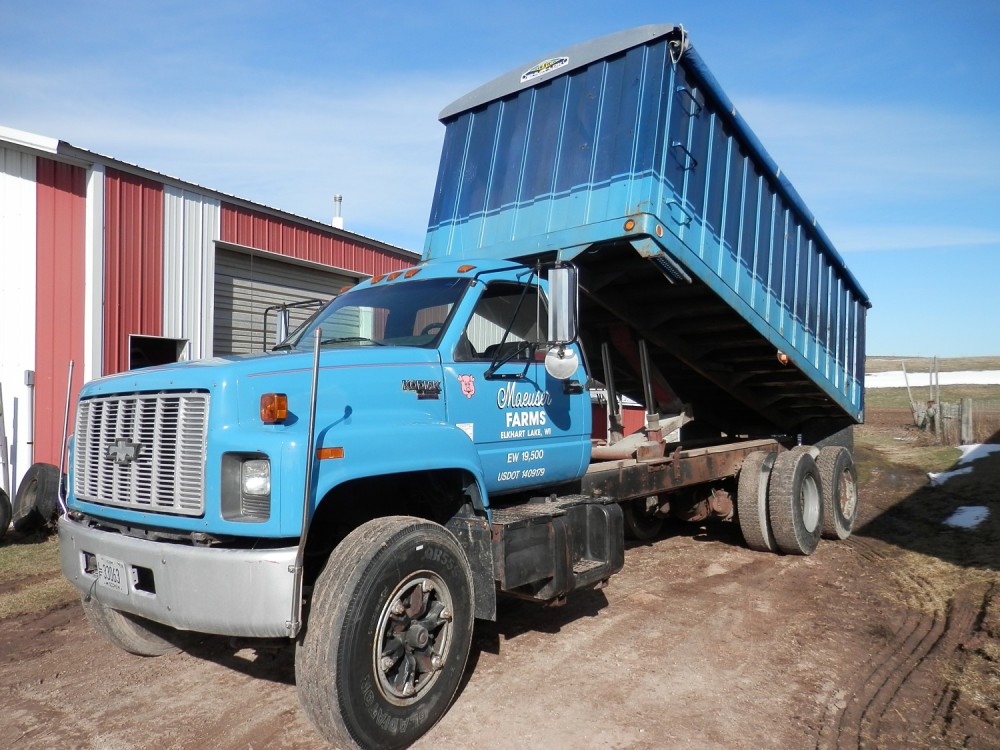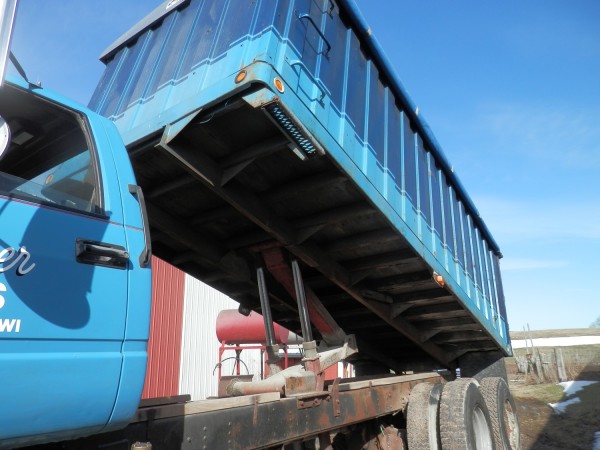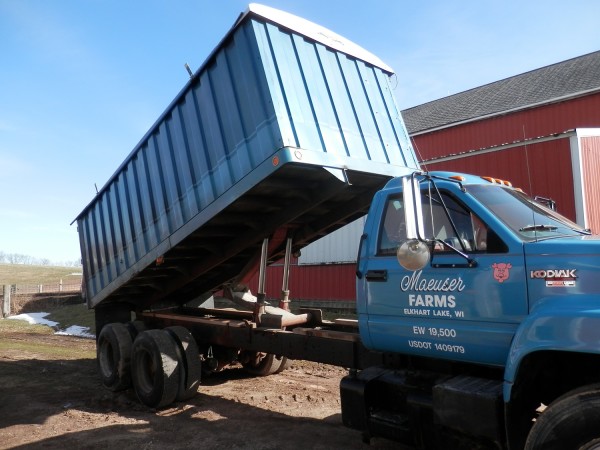 Special Treat---A few antiques have joined Carl's fine auction.

From the Klapperich Estate, they were held back from a cold & snowy
auction day and now need to be sold.
Nice crocks, games & toys, Kraut Kutters, a few furniture items, and more.